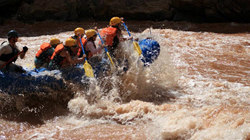 B2B is unlike any 'sober living' program I have seen or experienced in my 26 year career.
Flagstaff, AZ (PRWEB) October 31, 2014
Twelve licensed clinical therapists, educational consultants, and specialists in the behavior health field, specializing in substance abuse and addiction from across the United States, gathered in Flagstaff, AZ in mid-September for a first-ever white water rafting trip down the Colorado River, hosted by Back2Basics Outdoor Adventure Therapy founder and CEO, Roy DuPrez.
"I think Back2Basics does a great job of providing information about what we do, but this particular opportunity shared and exposed industry professionals to a journey that our residents experience on a weekly basis," said DuPrez.
The rafting trip was four days and three nights and included day hiking, tent camping, yoga, and open-flame cooking – one of the many weekly trips that Back2Basics recovering residents take to help them build self-esteem, push through obstacles and gain both physical and mental strength.
DuPrez was hoping to replicate feelings of uncertainty and a sense of accomplishment for the professionals participating.
"For me the highlight of the trip was that they actually got uncomfortable and anxious about being disconnected and removed our daily routine, and got on the other side and gained some insight about themselves," said DuPrez. "Similar to what we are asking of our residents while participating at B2B -- to just trust the process."
According to Marti Weiskopf, director of admissions and marketing for Living Well Transitions in Boulder, CO the trip was a platform to exchange ideas among like-minded professionals. Weiskopf was a sponsor for the rafting trip and had never been before.
"For me the purpose of the trip was to market to program referral sources, and build relationships in a very personal way in a setting we have only dreamt of," said Weiskopf.
Brenda Loringer, an educational and therapeutic consultant and interventionist based in Nashville, TN has been a long-time advocate of the program. DuPrez was one of the first people she met in Flagstaff.
"B2B is unlike any 'sober living' program I have seen or experienced in my 26 year career," said Loringer. "Its unique approach provides the intensity of both residential and wilderness based treatment with a strong focus on community and 12 step recovery."
There is discussion between DuPrez and Weiskopf to make this an annual trip.
"I would like to this again and will sponsor this trip again with Roy next fall," said Weiskopf.