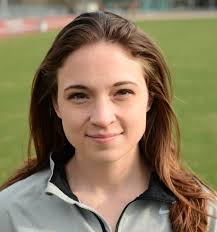 When you get through a trial and you get to the other side with some type of success, you can define yourself.
Eugene, OR (PRWEB) October 31, 2014
From performing your best to coping with setbacks, resiliency is a characteristic that athletes need to cultivate to become successful. Professional runner, Dr. Shannon Leinert of the Oregon Track Club and University of Oregon recently sat down to discuss athlete resiliency with Joshua Gordon on SCI TV. As a professional runner, educator, business owner, and author of a forthcoming book, Leinert is uniquely positioned to describe the time management challenges facing athletes and strategies to build resiliency.
Resiliency can sound like a predetermined trait based on self reliance, conjuring images of a strong lone wolf, but Leinert has a different take. "People might believe (resiliency) is innate, but I definitely think it is something you can learn. (It is) the ability to use your resources and work with people and have a network of social support."
Setbacks are fundamental to sports, and while Leinert has endured her share of injuries and time challenges, she has also found ways to bounce back. "I learned to close one door and open another door, then re-close a door and reopen another door," Leinert says. "I would close the door to my PhD, and open a door to track and field. But I didn't have that idea until I talked to other people and used my network."
Building the right support network of friends, family, coaches, and teammates is critical. "My cheerleaders are the ones that will cheer for me no matter what. Those are the people you need to surround yourself with."
Improving resiliency can also boost your motivation. "I get so much emotion out of accomplishing something," Leinert says. "When you get through a trial and you get to the other side with some type of success, you can define yourself."
Success for Leinert can be as simple as "being better today than I was yesterday."
Finally, Leinert recommends developing your own approach to challenges by learning from others, a topic that will feature prominently in her forthcoming book. "You can create your own problem solving strategies. Go out and seek as many stories of resiliency as you can, and then you can create your own formula for resiliency."
Read more about Shannon at her blog, Finding Your Stride: http://www.shannonleinert.com
Watch the entire interview. https://www.youtube.com/watch?v=BXZlro1AVYg
About SCI
SCI supports competitive goals in athletics through understanding, preventing, and resolving destructive conflict both inside and outside the lines. SCI serves as a knowledge center and provides a range of services to help ensure student-athlete experience is part of a healthy university culture while optimizing performance on and off the field of play. Conflict is inevitable, but how we respond determines whether success follows or costs mount. SCI Founder Joshua Gordon has over 20 years of conflict management experience.