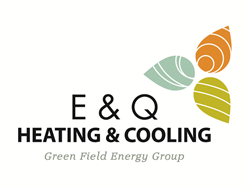 We're putting an extra emphasis on safety with our revised 16-point safety check as winter arrives this year because it's critically important.
Lee's Summit, Missouri (PRWEB) October 31, 2014
At the start of 2014, numerous news stories circulated the country about families narrowly escaping carbon monoxide poisoning in their homes. Now, as 2015 (and the winter season) looms just weeks away, one family-owned, Missouri-based heating and cooling company is taking a more aggressive and straightforward approach to making sure families start the home heating season with the assurance that their home systems are safe and secure.
Beginning Nov. 1, 2014, E and Q Heating and Cooling announces the 16-Point Heat Safety Check, which allows a trained technician to explore the system's safety across numerous features. "We realize that many homeowners will simply turn their air conditioning over to heat by a touch of the thermostat when winter approaches," says Kyle Greenfield, owner, E and Q Heating and Cooling. "We see a lot of 'it worked fine last year so it's fine this year' comments. But that's not going to mean the system is running as safety as it could, especially where carbon monoxide and other areas are considered. Our 16-point check is designed to investigate any safety concerns within the unit."
Greenfield notes that some often overlooked areas of concern include clogged or blocked vents and filters that are full of debris. Checking the wiring connection points for the furnace unit as well as carbon monoxide levels in the home can mean more confidence and safety for homeowners. When these areas are evaluated by a trained, experienced and licensed technician, overlooked areas and solutions are even more likely to emerge.
"It's not that people aren't concerned about their safety this winter," says Greenfield. "It's that they are leading busy lives and don't often think about a safety check until the cold weather has already arrived. The time to get that check done is now so they're ready to adjust that thermostat when it's needed."
Greenfield also notes that homeowners may not realize the dangers of faulty or worn out flue pipes and how to check for the possibility of natural gas leaks. Storing combustible items near or around a furnace area can also cause safety problems, in addition to improper furnace gas burn – which creates carbon monoxide issues.
"We're putting an extra emphasis on safety with our revised 16-point safety check as winter arrives this year, because it's critically important," says Greenfield. "We know there are many homeowners out there who could be at risk for a problem that they've never even considered. We want the headlines for 2015 to be positive."
Based in historic downtown Lee's Summit, Mo., E and Q Heating and Cooling is family-owned and operated by Kyle and Shelsie Greenfield, whose nearly 40-year experience spans the residential heating and cooling industries as well as energy and efficiency for commercial builders. During the safety check, technicians ask key questions about the unit, and then check all major and minor components against factor recommendations. They check flue and gas pipes, then look into the attic to check for any signs of a potential problem. A list of recommendations is provided and then those recommendations are prioritized for the homeowner so they'll know what to do first.
About E and Q Heating and Cooling:
Since 1980, E and Q Heating and Cooling has been a trusted name in residential and commercial service in the Lee's Summit, Mo., area that reflects its initials – efficiency and quality. Professionally trained and experienced technicians work to help homeowners understand where improvements are needed and to provide truly individual solutions that match homeowners' needs and lifestyles. Preventative maintenance services are provided from both a comfort and efficiency perspective, and E and Q offers best-in-industry warranties and 24/7 emergency furnace and air conditioning services. Green Field Energy Group is the parent company of E and Q Heating and Cooling.