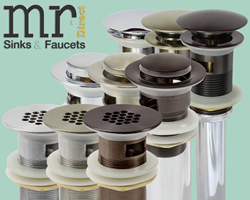 All three types of drains are constructed of solid brass
Toledo, OH (PRWEB) November 01, 2014
When purchasing a new bathroom sink, the characteristics of the drain rarely come to mind except as an afterthought. However, the drains now offered by MR Direct deserve a little up-front attention.MR Direct manufactures all of its pop-up style drains with a spring-loaded mechanism. This allows for an easy and sure method of opening and closing with the simple press of the cap.
For a variety of purposes, many consumers need bowls which can be filled with water for periods of time. These sinks are available as vessels, and as standard under or over-the-counter models. For the vessel-style sinks, MR Direct offers its vessel pop-up drain (VPUD). Although most vessel sinks do not have an overflow, the VPUD is built to handle one whether it does or not. The design of the VPUD features a broad, dome-style cap which presents a smooth, graceful covering while open or closed. The durable o-ring washer on the shaft ensures a tight seal.
The standard pop-up drain (PUD) looks much like any traditional sink drain, but like the VPUD, it is activated by a simple press to its top. It is designed for use with any topmount or undermount sink, with an overflow. It too has a long-wearing washer in place to provide a reliable seal.
When the situation does not require a drain which can be closed and opened, the new MR Direct grid drains are recommended. These drains feature a pattern of 19 holes which allows water to pass through, while catching any debris.
All three types of drains are constructed of solid brass, and are available in one of three attractive MR Direct finishes: chrome, brushed nickel or oil-rubbed bronze. It should be noted that the copper and bronze sinks are especially suited to being paired with the oil-rubbed bronze toned drain.
With its uniform line of pop-up drains, MR Direct has taken another step, in the name of convenience, toward improving the world of the contemporary bath. A complete review of MR Direct accessories and their extensive line of sinks and faucets can be made with a visit to http://www.MRDirectint.com