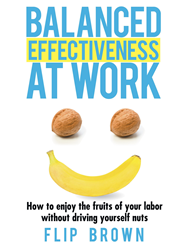 If you're interested in living a more fulfilling life, Flip offers a wealth of information, strategies and techniques to do just that.--Dr. Mark Albion, New York Times bestselling author of 'Making a Life, Making a Living.'
Burlington, Vermont (PRWEB) November 03, 2014
According to the most recent broad-ranging Gallup poll of employees in America, 70% percent describe themselves as "not engaged" or "actively disengaged." These workers have a direct impact on organizational culture, customer service, and financial results. While some would say that employers bear full responsibility for this dynamic, author Flip Brown believes that everyone has options for more success and satisfaction regardless of their workplace environment.
Brown describes his new book, Balanced Effectiveness at Work: How to Enjoy the Fruits of your Labor without Driving Yourself Nuts, as "a resiliency manual for anyone who works for a living." Drawing upon his extensive experience working with "good people in great organizations" for over twenty years, Brown presents a light-hearted but in-depth look at chronic dissatisfaction within the workplace.
"It's important to recognize that we all have choices in how we approach our work. There will always be challenges, less-than-optimal outcomes, and some people who push our buttons," he says. "So even as employers are putting programs in place to support workplace balance, I believe individuals have their own options available for a better internal and external experience at work."
Using real-life relatable examples, Brown covers twenty-four wide-ranging topics. Each chapter includes conceptual definitions, sample scenarios, frank assessments, "Flip's Tips," action plans for real traction, and positive reinforcement.
He advocates a shift from "time management" to "energy management." "We sometimes have unrealistic expectations about what can be accomplished in one day," observes Brown. "And even as we're searching for ways to deal with all the pressures of lists and meetings and deadlines, the stress of that process actually diminishes our productivity. Developing more realistic expectations for ourselves can lead to less stress, better balance, more focus, and higher-quality output."
The book has been endorsed by New York Times bestselling authors Marshall Goldsmith, and Dr. Mark Albion, along with twenty-seven other authors and business leaders. Albion said, "If you're interested in living a more fulfilling life, Flip offers a wealth of information, strategies and techniques to do just that."
Balanced Effectiveness at Work is published through Open Book Editions, a Berrett-Koehler Publishers partnership with iUniverse. More information about the book is available at http://www.balancedeffectiveness.com. For review copies, please contact Becky Robinson at becky(at)weavinginfluence(dot)com.
Flip Brown helps people to experience more meaning and fulfillment in the workplace. He serves as a catalyst to decode, change, and sustain individual and organizational patterns. He has a background in business, psychology, outdoor recreation, organic gardening, and rock 'n' roll. Flip is the founder of Business Culture Consultants, a Certified B Corp in Burlington, Vermont. Flip is also an Ambassador for the Social Venture Network, and a long-time member of Vermont Businesses for Social Responsibility. He loves his job.