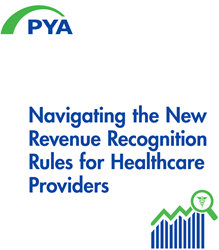 The white paper offers guidance that these [healthcare] entities can use to better understand the regulation and its implementation in their organizations.
Knoxville, TN (PRWEB) October 31, 2014
With the recent issuance of Financial Accounting Standards Board Accounting Standards Update (ASU) No. 2014-09, Revenue from Contracts with Customers, healthcare providers are finding they must again adapt to a game-changing standard that addresses the ways in which they must deal with revenue recognition. While the new standard's implementation date is effective in December 2017, public entities are required to adopt earlier, and non-public entities may choose to early adopt. Therefore, entities must be aware of what this new standard will mean for their organizations, and begin to prepare now.
PYA has released a new white paper, "Navigating the New Revenue Recognition Rules for Healthcare Providers," which outlines the new principle-based approach for recognizing revenue—essentially a five-step process. In addition, the white paper summarizes items which will require healthcare providers to use increased focus and judgment. One such consideration is the transaction price and how the provider should estimate variable consideration and report price concessions. The paper also touches on recognizing revenue when no contract is present.
As the new ASU could potentially affect the way healthcare providers conduct business and perform daily accounting functions, the white paper offers guidance that these entities can use to better understand the regulation and its implementation in their organizations.
PYA provides audit and accounting services to healthcare entities ranging in size from small physician practices and ancillary providers to large multi-state integrated healthcare organizations. This experience across the spectrum of healthcare allows PYA's healthcare auditors to quickly identify the financial reporting areas of greatest risk to an organization and to more efficiently and effectively perform audit or accounting services.
About PYA
For over three decades, Pershing Yoakley & Associates (PYA) has provided timely insight and strategic support, helping clients thrive in the midst of rapid change. PYA is ranked by Modern Healthcare as the nation's twelfth largest privately held healthcare management consulting firm. For more information, visit http://www.pyapc.com/.