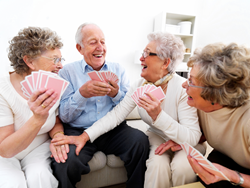 Short Stay housing options are one way in which Welch Group's Allerton House Assisted Living Communities provide peace of mind during the holiday season.
Marshfield MA (PRWEB) October 31, 2014
Research shows that positive social interactions, being engaged with life and friends and family have a huge impact on the emotional and mental wellbeing of seniors, particularly as it relates to brain health. Welch Healthcare and Retirement Group, a family owned senior housing and services company on the Massachusetts South Shore, emphasizes the importance of these social connections at the 65-year old company's assisted living residences.
The Allerton House Assisted Living Communities feature weekly and monthly classes, clubs, special events, outings and entertainment designed to promote social engagement. The National Institute on Aging reports that studies have shown a relationship between reduced levels of anti-inflammatory properties in individuals who have healthy social interactions. Increased inflammation has been associated with conditions that are related to getting older such as osteoporosis, rheumatoid arthritis, cardiovascular disease and Alzheimer's disease.
Welch Group assisted living communities offer an array of activities to enrich cognition. Various Allerton House residences are embracing Connected Living®, a technology that facilitates interaction through email, social networking, photo-sharing, online classes, music and brain-healthy games. Additionally, residents of Allerton House can engage in stimulating activities such as drawing and painting classes, strength training, bridge clubs, ballroom dancing and quilling, a centuries-old art of coiling paper.
Staying active and engaged and maintaining all-important social connections become more difficult in inclement weather. That is why leading up to the winter months in Massachusetts, which are usually accompanied by snow, sleet and icy roads and sidewalks, Allerton House Communities encourage adult children and senior living and healthcare professionals to consider the Short Stay option for their loved ones or clients. Respites at Allerton House residences offer all the perks of permanent resident status while allowing older adults a healthy social environment in which to spend a few weeks should adult caregivers need to be away for a short time. Additionally, these short stays are an easy, noncommittal way for individuals and their families who may consider assisted living as a housing and healthcare option, to "test-drive" this senior lifestyle.
For more than 65 years, Welch Healthcare and Retirement Group has been providing continuum of care services to seniors and their families who may need housing or care options, including independent living, assisted living, short-term rehabilitation and long-term care, Alzheimer's care, adult day health or home care services. Residences and skilled nursing centers are located in Brighton and throughout the South Shore of Massachusetts including Braintree, Duxbury, Hingham, Marshfield, Quincy and Weymouth. To learn more visit: http://www.welchhrg.com