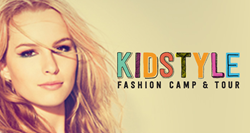 Atlanta, GA (PRWEB) October 30, 2014
infinitee, a strategic retail real estate marketing agency in Atlanta, GA developed the branding campaign for Tanger Outlets' KidSTYLE Fashion Camp & Tour. The fashionably fun kids event was hosted at Tanger Outlet Centers across the country and consisted of interactive activities appealing to kids between the ages of 7-12. Select centers welcomed a celebrity appearance and performance by actress, singer and Disney star, Bridgit Mendler.
infinitee concepted and produced a national broadcast TV spot featuring Mendler, inclusive of photography, videography and editing, as well as created promotional web videos which lived on the Tanger Outlets national and center websites and were shared across Tanger's portfolio of social media platforms. In addition, infinitee designed all digital campaign graphics for the Tanger Outlets website and all nationally distributed direct mailers promoting the event.
Tanger's KidSTYLE Fashion Camp & Tour coincided with its Fall TangerSTYLE campaign to promote an ultimate shopping experience for back-to-school fashions and drive on-site traffic. infinitee seamlessly and successfully integrated the KidSTYLE Fashion Camp & Tour promotion into Tanger's seasonal style guides and coupon inserts, leading to superseding coupon redemptions and record setting traffic counts for each Mendler tour event.
infinitee began as a full-service marketing agency dedicated to the shopping center industry in 1989 and has diversified over the last 25 years to include other real estate business verticals, including mixed-use, commercial, multi-family and residential. infinitee has produced many award-winning campaigns for Tanger Outlets for the past 19 years. Their unique retail flair continues to help grow market share for Tanger year after year.
About infinitee
infinitee is a strategic real estate marketing and advertising agency that understands how to improve brands, communications and customer experiences. With a focus It's strategic and creative solutions build brand equity and drive sales for companies across the country. infinitee's expertise has proven invaluable to national and southeast regional brands wishing to strengthen and grow their bottom line, including: OliverMcMillan, Cousins Properties, Parkway Properties, PM Realty Group, Tanger Outlets, Craig Realty Group, Lennar Commercial Investments and Banyan Street Capital. Through all facets of advertising, collateral, digital media, and brand strategy, infinitee creates award-­‐winning marketing and innovative communications.
For more information on infinitee, call Managing Partner, Jocelyn Smith, (404) 231-3481, visit http://www.infinitee.com, or find us on Facebook.