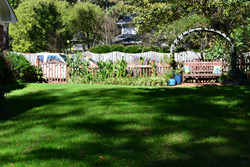 Super-Sod's video is intended to support their customers in the endeavor of creating a new Elite Tall Fescue lawn from seed.
Atlanta, GA (PRWEB) October 31, 2014
In keeping with their DIY series of lawn care videos, Super-Sod filmed a new video and released it October 2014 to coincide with Tall Fescue grass planting season. It's called "How-to Plant a New Tall Fescue Lawn from Grass Seed" and can be found on YouTube, supersod.com, and linked herein.
The video applies to seeding any new Tall Fescue Lawn, but it was produced to support Super-Sod's Elite Tall Fescue brand. Every year, a team of Super-Sod's experts selects the best three Tall Fescue varieties for the Southeast resulting in their own blend marketed as Elite Tall Fescue.
Tall Fescue is a cool season lawn --- that means it begins to grow again as temperatures cool in the autumn. Now is the time of year when already established Tall Fescue lawns are overseeded. Overseeding is the process of distributing grass seed over an existing lawn to freshen up the lawn and fill in thinning patches with vigorous new seedlings.
Autumn is also the time of year when completely new Tall Fescue lawns are created from scratch. Since creating a new lawn from seed is a more involved process than overseeding, Super-Sod's video was filmed to demonstrate the process step-by-step to support homeowners in the endeavor of growing a new Elite Tall Fescue lawn from seed.
Super-Sod is a family-run business that employs experts in turf and horticulture. One of their most popular products has been their Soil3 organic compost, delivered in a cubic yard BigYellowBag, which they make partially from composted grass clippings from their sod production. Super-Sod continues to develop new garden products, foster gardening and landscaping, and always seeks to improve their farming practices, technology, environmental stewardship, and employee knowledge.