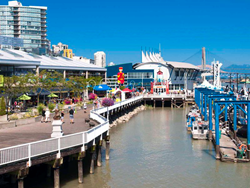 The Best of New West Culinary Trail features six of the city's culinary standouts.
Vancouver, British Columbia (PRWEB) October 31, 2014
With a wide range of new restaurants, exciting chefs and global cuisine, Vancouver, Coast & Mountains' New Westminster has become a popular hangout for foodies of all kinds. The "Best of New West Culinary Trail" tour provides visitors the necessary tools to create their own self-guided tour of New Westminster.
The "new" New West checks all the boxes when it comes to a foodie destination. New Westminster is where farm-fresh and local meet global and cutting edge cuisine. New restaurants, pubs, a brewery and winery, a vibrant entertainment district and the recently opened Anvil Center have given New Westminster a much-needed facelift while keeping the city's rich history intact. The "Best of New West Culinary Trail" features six of the city's culinary standouts.
1. The River Market at Westminster Quay – Great food and an abundance of specialty shops in a spectacular setting along the banks of the Fraser River.
2. Royal City Farmers Market - Featuring live music, farm-fresh produce and an assortment of arts and crafts from local vendors, this is a great place to learn about the oldest city in western Canada and do some grocery shopping at the same time.
3. Westminster Pier Park - Open year-round, this new development overlooks the mighty Fraser River and is a great spot for a picnic lunch after shopping at the market.
4. Steel & Oak Brewery - Steel & Oak toasts the town's storied history by brewing a variety of craft beers in the style of some of the world's most esteemed brewing nations. The tasting room is open daily and tours of the facilities are available.
5. The Hub Restaurant - Delicious west coast comfort food, an assortment of local craft beer and BC wine on tap, and an awesome 70 seat patio with incredible views of the Fraser River have made Hub Restaurant one of the more popular go-to spots in New Westminster.
6. Pacific Breeze Winery - Just a 10-minute walk from the New Westminster Skytrain Station, Pacific Breeze specializes in producing small-lot, handcrafted wines sourced from growing regions along the Pacific coastline from BC all the way down to California.
For more inspiration about visiting New Westminster and experiencing the culinary scene of Vancouver, Coast & Mountains Tourism Region, please visit the region's travel inspiration website – 604pulse.com.
____________________
604pulse.com is the official blog of the Vancouver, Coast & Mountains Tourism Region and is dedicated to exploring all the things to see and do in the region to share with visitors. This fall VCM is featuring a number of culinary inspired itineraries to showcase the region's food-scene.
About Vancouver, Coast & Mountains: Vancouver, Coast & Mountains, one of six tourism regions of Super, Natural British Columbia, includes four destination areas: Metro Vancouver, Sea to Sky Country, Mighty Fraser Country, and the Sunshine Coast. This non-profit society is governed by a private sector board of directors who represent business and community tourism interests from throughout the region. VCMBC works with Tourism British Columbia to utilize their combined resources and provide greater benefits to the provincial tourism industry through an integrated web presence. For more information about Vancouver, Coast & Mountains visit our website or call 604-739-9011.