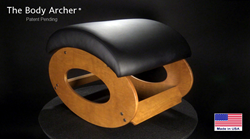 It simply takes a lot of advertising dollars these days to reach enough customers, even in an online business"
Burbank, California (PRWEB) November 03, 2014
Los Angeles based Body Archer LLC is a classic story of the challenges of taking an online marketing business from the early stages of a startup to the next level of an established and growing enterprise. The Body Archer®, a clever and attractive back stretching device designed by a California massage therapist, has been recommended by professionals and enthusiastically received by their online customers. But now, in order to continue to grow, they must find investors who recognize that enthusiasm as an opportunity for profit.
Body Archer founder, Robert Wald, an Emmy and Oscar nominated entertainment industry professional, explains, "I knew that my inventor friend, Londi Palmisano, had a hot product because of the rave reviews and crowds of admirers it got at a big inventors convention here in Los Angeles and then again at the huge L.A. Marathon Fitness Expo. Like most startups, I launched the business initially with my own resources, knowing that, at some point, we would need additional financial help. After accomplishing my goal of a successful launch, we now need investors who recognize the profit potential and will help us grow in exchange for a significant portion of the business. It simply takes a lot of advertising dollars these days to reach enough customers, even in an online business."
In recent demonstrations of The Body Archer to physical therapists and orthopedists, they have unanimously touted its quality, beauty and benefits. Bob is hopeful that, "Now that doctors are seeing the value of our product, one or more of them might not only endorse our product, but also become an actual investor, with the exclusive right to call The Body Archer their own. With an infomercial or two and some other smart marketing I think we'll be well on our way to bringing a really wonderful product to a much larger audience."
The Body Archer was invented by a certified massage therapist and developed for the retail market by Body Archer LLC to help millions of Americans prevent and relieve back pain. The company's mission is to educate consumers on the short and long term benefits of maintaining a flexible body and spine, and sitting in a healthier way. The Body Archer is manufactured in the company's home base of Los Angeles, California.