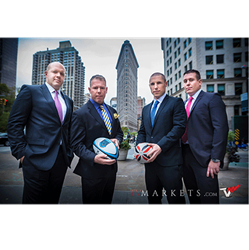 Hiring rugby players has been a big 'X Factor' for Tradeview.- Tim Furey, Tradeview Markets Founder and CEO.
New York, New York (PRWEB) October 31, 2014
In the Forex online trading industry, Tradeview Markets has built a successful team by tapping a valuable pool of individuals not usually considered when thinking about financial markets – rugby athletes.
With a number of rugby players on staff, the firm can boast being one of the only Forex brokers in the world with such a strong rugby tradition. With this in mind, Tradeview Markets is firmly behind Team USA vs. New Zealand rugby, in America's biggest match ever, on Saturday, November 1.
Success in the sport of rugby and in the Forex industry requires the same essential traits – discipline, work ethic, dedication and a natural inner strength – and Tradeview Markets' Founder and CEO Tim Furey recognized this early on in his career.
He knew rugby athletes could be an integral component of his Forex business and set him apart from the competition.
"Hiring rugby players has been a big 'X Factor' for Tradeview," says Furey.
"These people have a proven character, accountability and experience. Rugby players understand the hard work and commitment it takes to make it on the field and they strive to make that happen in the business world," he adds.
The idea paid off, and for the past seven years Tradeview has been growing steadily in strength and in reputation among its growing list of clients.
The pressures of working in a sector that moves at lightening speed can wear down those who are not up to the challenge, but the accomplished rugby players who make up Tradeview team are not only able to survive but thrive in such an environment.
Says Furey: "In the Forex and Equity markets, the demands placed on brokers are much higher than those in other industries. For that you need the best of the best. You need to find people who are talented, natural leaders, hard workers, disciplined, without negativity or a sense of entitlement, people who feel alive in their jobs."
The culture found in the rugby world meshes well with the corporate culture Furey wanted to create his company seven years ago when he founded his company. This "go big or go home" sentiment is shared among the 'band of brothers' at Tradeview Markets.
With rugby, as with the Forex industry, "there is a very unique bond formed between people when put under severe pressure together, when faced with huge opposition in what they are trying to do," says Irishman Rory Collins, a seasoned rugby player and the newest edition to the Tradeview team.
"The success isn't rated by the end score, but how you carry yourself when all the chips are down," Collins added.
For more information on Tradeview Markets, visit the Rhino Report:
http://www.tradeviewforex.com/rhino-report/the-forex-industrys-untapped-asset-rugby-players