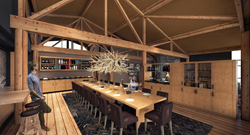 (PRWEB) October 31, 2014
Banff, AB – CMH Heli-Skiing will reveal a fresh look to its most exclusive lodge as the world's largest and longest serving Heli-Ski operator enters its 50th year.
CMH Valemount, the iconic destination catering to intimate groups and rated by SKI Magazine as "one of the world's five most luxe ski lodges," will receive upgrades to its common areas and spa in preparation for the fast-approaching ski season.
The newly renovated space, featuring a colour palate drenched in warm and inviting lodge-inspired hues, has been designed by Skylab Architecture, a Portland-based group of architects and design professionals who have collaborated with CMH on additional iconic CMH properties during the lead up to the organization's golden anniversary.
"As we approach a new ski season and our greatly anticipated 50th year, we are excited to unveil a refreshed look to an already impressive CMH destination," begins Joe Flannery, President of CMH Heli-Skiing and Summer Adventures. "Through our continued collaboration with Skylab Architecture we are thrilled to provide our CMH Valemount guests the ultimate Heli-Ski experience."
Visitors to CMH's most exclusive property will see an enhanced look to its living and dining areas, complete with upgraded, contemporary décor and finishings, while keeping with the overall esthetics of its warm and inviting backcountry appeal, indicative of the lodge's remote location in the surrounding Cariboo Mountains. Additional touches will be finalized in preparation for CMH Valemount's first guests of the season, anticipated to arrive the first week of December.
"We strive to design environments that create lasting effects on the natural and built world and with our continued working relationship with CMH's iconic properties, we look forward to unveiling our understated, yet visually stunning enhancements to Valemount which provide an updated polish to CMH's exclusive offering," said Jeff Kovel, AIA, Principal of Skylab Architecture.
The private accommodation, set in a valley just beyond the town of Valemount, British Columbia is designed for discerning groups up to 10 people. Throughout CMH's December through April Heli-Ski season, guests of Valemount can enjoy use of a private helicopter to explore their preferred terrain anywhere in the Cariboo tenure. While most trips are booked over a year in advance, a few select trips are available for the upcoming season.
For more information on CMH Valemount Heli-Ski experiences visit http://www.canadianmountainholidays.com/lodging/valemount.aspx
ABOUT CMH HELI-SKIING & SUMMER ADVENTURES:
Celebrating 50 years of Heli-Adventures, CMH Heli-Skiing & Summer Adventures is the world's first and largest Heli-Skiing and Heli-Hiking operator. From their head office in Banff, Alberta, CMH operates exceptional mountain experiences based from 11 lodges located in the Bugaboo, Purcell, Selkirk, Monashee and Cariboo ranges of British Columbia, Canada. Heli-Skiing takes place each year from December through April, and CMH Summer Adventures take place from July to mid-September. For more information visit http://www.cmhski.com
Media Contact:
Tanya Otis, PR Manager
Tel: 403 762 7110
totis(at)cmhinc(dot)com
http://www.cmhinc.com