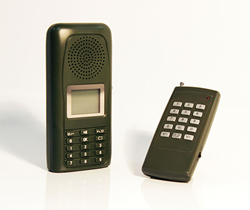 The Sparrow Charmer™ by Bird B Gone is an ideal add on to any sparrow trapping job!
Irvine, CA (PRWEB) October 30, 2014
Bird B Gone, the leader in bird control products for commercial, industrial and residential applications now offers the Sparrow Charmer™. Designed to lure sparrows into netting and traps by broadcasting Bird B Gone®'s proprietary sparrow call, the Sparrow CharmerTM is the ideal add-on to any mist net kit or other sparrow trap.
Sparrows have long presented a problem when they enter and occupy warehouses, Big Box stores, airplane hangers, grocery stores, or any large indoor or outdoor space where they pose a nuisance. The elusive birds often prove difficult to lure and capture. Their presence can distract workers, and their droppings and debris can deface and damage inventory, parts and packaging. The acid in bird droppings has been known to eat into paint, fabric, plastic, metal and even stonework. Birds are particularly unwelcome in areas where food is stored or sold, as bird droppings can carry any of 60 known diseases, including salmonella. Bird nesting debris can even ignite electrical fires, block vents, and prevent AC units from functioning properly.
The Sparrow Charmer™ uses a proprietary sparrow call, which is scientifically proven to attract sparrows to traps or mist netting. The Sparrow Charmer™ provides separate remote control functions that can be activated from a distance of up to 150 meters. A volume control allows the device's output to be varied up to a maximum of 170 db. The built-in speaker attracts sparrows from as far away as two acres, and more speakers can be added to extend the coverage area.
Entirely portable, the Sparrow Charmer™ is easy to use, playing up to 18 continuous hours on a single rechargeable Lithium battery. The device can be easily recharged with the accompanying USB power adaptor (both USB and standard power cords are included). The compact unit measures just 5"x2"x1" and is easily mounted using the accompanying mounting clip. The Sparrow Charmer™ is ideal for Light to Heavy Bird Pressure environments (Light Pressure—only a few birds stopping during the day; Heavy pressure—many birds nesting or roosting at the site).
Bird B Gone is the world's largest manufacturer and distributor of bird control products, providing effective and humane solutions to a bird-free environment. The company provides advice, training and installation services for those who need help with these and other bird control measures.