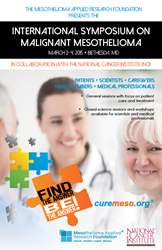 This conference is geared to attendees from all walks of life, including patients and their families, advocates, medical professionals, and those who have lost loved ones to mesothelioma. T
Alexandria, VA (PRWEB) October 31, 2014
According the Mesothelioma Applied Research Foundation (Meso Foundation), registration for its annual conference, the International Symposium on Malignant Mesothelioma, is now open. The conference will take place between March 2 – 4, 2015 at the National Institutes of Health (NIH) in Bethesda, MD. The Foundation has secured a discounted block of rooms for attendees at the Hyatt Regency Bethesda. Hotel reservations can be made online.
The 2015 International Symposium on Malignant Mesothelioma is an event organized by the Mesothelioma Applied Research Foundation, in collaboration with the National Cancer Institute. This conference is geared to attendees from all walks of life, including patients and their families, advocates, medical professionals, and those who have lost loved ones to mesothelioma. The Symposium provides a setting for everyone in the meso community to come together and take part in both scientific sessions and community conversations. Preliminary agenda is available on the Meso Foundation's website.
Interested individuals can visit http://www.curemeso.org/symposium for more information and to register.
In addition to the science and treatment sessions for patients, their families, the bereaved community, and other members of the general public who wish to learn more, this year's Symposium once again includes a two-day special session for scientists and medical professionals.
Although patients and other attendees of the Symposium's regular sessions are strongly discouraged from attending the scientific sessions (in order to facilitate the highest level of sharing), the scientists and medical professionals in attendance will be available during sessions common to both groups, such as lunch on Monday, and both dinners. To view the full science agenda, please visit curemeso.org/symposium.
Mesothelioma is a malignant tumor of the lining of the lung, abdomen, or heart known to be caused by exposure to asbestos. Medical experts consider it one of the most aggressive and deadly of all cancers. An estimated one-third of those who develop mesothelioma were exposed while serving in the Navy or working in shipyards.
ABOUT THE MESOTHELIOMA APPLIED RESEARCH FOUNDATION
The Meso Foundation is the only 501(c)(3) nonprofit organization dedicated to eradicating mesothelioma and easing the suffering caused by this cancer. The Meso Foundation actively seeks philanthropic support to fund peer-reviewed mesothelioma research; provide patient support services and education; and advocate Congress for increased federal funding for mesothelioma research. The Meso Foundation is the only non-government funder of peer reviewed scientific research to establish effective treatments for mesothelioma and, ultimately, a cure for this extremely aggressive cancer. To date, the Foundation has awarded over $8.7 million to research. More information is available at http://www.curemeso.org.
###