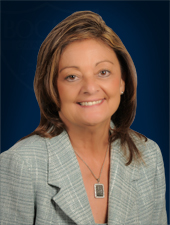 "When I received the phone call informing me that I had been selected as this year's Paragon Award recipient, it was by far one of the most exciting moments of my life," said Adams
(PRWEB) October 31, 2014
Adams has over 28 years of knowledge in the hospitality industry, beginning with her first job in 1986 as the controller at The Fountains Country Club in Lake Worth, Fla. Making the transition to club accounting was a challenge and it was during her time at The Fountains which she began attending meetings for HFTP.
In 1993, she was approached by the Hamlet Country Club to become their controller and apply her knowledge to provide various enhancements. In 2007, even though she was not looking for a change she became the controller for the Bocaire Country Club. In the eight years since joining Bocaire she has managed to transform their software system, rewrite their employee manual and implement new compliant human resource policies.
During her time in the industry she was able to contribute to the success of many private clubs all while working tirelessly to grow the HFTP Gold Coast and South Florida chapters. Adams served as president of the Florida Gold Coast chapter from 2002-2003 and for the past 17 years has served on their charity committee.
"When I received the phone call informing me that I had been selected as this year's Paragon Award recipient, it was by far one of the most exciting moments of my life," said Adams. "To be included in the ranks of so many men and women that I have admired over my 25 years as a member of HFTP is an honor beyond description."
Based in Austin, Texas, HFTP is the professional association for financial and IT personnel, working in hotels, resorts, clubs, casinos, restaurants, and other hospitality-related businesses. The association provides continuing education and networking opportunities to more than 4,300 members around the world. HFTP also administers the examination and awards the certification for the Certified Hospitality Accountant Executive (CHAE) and the Certified Hospitality Technology Professional (CHTP) designations. HFTP was founded in 1952 as the National Association of Hospitality Accountants.
HFTP established the annual Paragon Award in 1999. Paragon Award nominees can be HFTP members; representatives of industry-related associations, societies or trade publications; or leaders from hospitality businesses, educational institutions and other related disciplines. The recipient is selected by a panel of fellow hospitality industry experts.
Gatekeeper Business Solutions offers a user friendly, web enabled application that creates measureable savings in labor costs, improves administrative productivity and increases revenue. Gatekeeper is also a leading provider of multiple data collection devices including labor saving biometric clocks, and a Work Time application for PC terminals allowing for ease of data input into a labor management system.
"Gatekeeper is proud to count Evelyn as a long-time client, but more important it has been my personal privilege to call her a dear and trusted friend. We have worked together in many HFTP charity and association events for more than a decade. She is the consummate professional, passionate about HFTP, works tirelessly for any chapter or member that needs her guidance and input and a deserving winner of the prestigious Paragon Award." said Peter Dehlinger, President, Gatekeeper Business Solutions, Inc.
About Gatekeeper Business Solutions, Inc.
Gatekeeper Business Solutions, Inc., a labor management systems company, offers a proprietary suite of software tools (lms.net), including time and attendance, scheduling, and integrated payroll software, for midlevel private and public sector companies. The company has provided a broad range of technology based solutions to manage labor costs to clients nationally. For more information, please visit the company's web site at http://www.gatekeepersolutions.com.
###
Media Contact:
Christine Smith
Gatekeeper Business Solutions
888.428.3577
csmith(at)gatekeepersolutions(dot)com