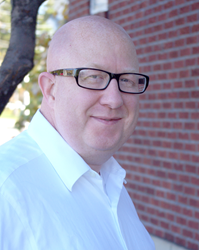 Tom Cuuples, EdD, CISSP, Director, IT Programs, LCIE
St. Louis, MO. (PRWEB) October 31, 2014
Lindenwood University's brand new Virtualization and Cloud Computing lab is now rapidly accelerating the growth of its cyber security, virtualization and cloud computing programs.
Lindenwood University (LU) is taking technology to the next level with virtual worlds being created through its private cloud infrastructure. Since St. Louis has become so acclimated to the technological world through hosting two data hotels, it's no surprise that LU has grown quickly within that dynamic environment, and it has even been chosen as a VMware Information Technology Academy (vITA). Lindenwood's physical IT lab is at the center of it all, and Tom Cupples, EdD, CISSP, Director, IT Programs, LCIE, is the coordinator.
"Imagine a big room of computers in the old days where one had to migrate information from one computer to another," said Cupples. "This process could have taken days or even weeks. The cloud infrastructure allows this to happen immediately."
The Lindenwood College of Individualized Education (LCIE) Accelerated Degree Program is where cyber security, virtualization and cloud computing reside. LCIE is structured for working adults who wish to further their educations quickly, efficiently and with flexibility to fit busy lives.
The beauty of the cloud infrastructure is that an instructor can access any student's network when he or she is accessing the virtual infrastructure. This asset permits an instructor to teach from a different physical location and demonstrate features of the virtual worlds.
"My vision is for Lindenwood University to be known as a premier local university producing highly qualified IT professionals for the Saint Louis Regional IT workforce demand," said Cupples.
Working with a private cloud infrastructure allows the professors of the five new LCIE programs (three bachelor degrees, two master degrees and a certificate) to teach the students cyber security, virtualization and cloud computing. According to the US Bureau of Labor Statistics, the industry will grow faster than any other, so demand for graduates trained in cyber security, virtualization and cloud computing is naturally high. LU is accommodating this demand with the quick growth of its programs.
For more information, please visit http://www.lindenwood.edu/.
About Lindenwood University
Lindenwood University, founded in 1827, is an independent liberal arts university offering more than 120 undergraduate and graduate degree programs in diverse areas of study and traditional and accelerated formats, including online. Lindenwood operates residential campuses in St. Charles, Mo. and Belleville, Ill., as well as 10 regional centers and 25 extension sites throughout Missouri.
###