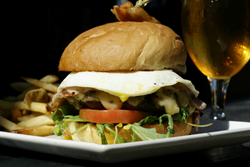 Burgers and beer are synonymous with our Pub, so we wanted to create a unique, fun and tasty menu that featured the best local ingredients we could find
Chicago, IL (PRWEB) October 30, 2014
Each week in November, Fadó Irish Pub, located on 100 W. Grand Ave., will give customers a new burger and beer pairing, elevating the weekend burger experience. The Hopped Up Burger Menu offers burger lovers four grass-fed beef burgers, four local craft beers and four solid reasons to hit up River North's favorite Irish Pub in November. And, starting Friday, November 7, Fadó will give customers 2 days or 24 chances, whichever comes first, to enjoy made from scratch grass-fed burgers and locally-made buns. There are only 24 burgers prepared each weekend and only offered on Friday and Saturday. In addition to pairing in the bundle offer, the featured local craft beer of the week is incorporated into the recipe.
"Burgers and beer are synonymous with our Pub, so we wanted to create a unique, fun and tasty menu that featured the best local ingredients we could find," explains general manager Tom Dowd. "And with these delicious burgers, made with Chicago's best craft brews and served on locally made buns, I believe we've done just that."
Burgers are prepared each weekend and paired with a featured beer of the week, a locally fresh-baked bun and served with one side item such as Fadó chips. The cost of the burger and beer bundle is $16.00
The "[Hopped Up Burger Menu" every Friday and Saturday in November:
November 7th and 8th: "The Second City Smokehouse" ~ made with American grass-fed beef, Green Line Ale, Applewood smoked bacon, Grayson cheese and served on a pretzel roll and paired with Goose Island Green Line
November 14th and 15th: "The Mexican Revolution" ~ Blackened American grass-fed beef, local chorizo slow cooked in Revolution Anti-Hero, topped with pepperjack cheese and avocado on a Kaiser roll and paired with Revolution Anti-Hero
November 21st and 22nd: "The Irish Breakfast" ~ American grass-fed beef, rasher, black pudding and mushroom sauteed in Daisy Cutter Ale, topped with a sunny side up egg and served on a Brioche roll with a side of Batchelors baked beans and paired with Daisy Cutter Ale.
November 28th and 29th: The Capone ~ American grass-fed beef made with Goose Island Sofie, topped with mozzarella made fresh daily at Eataly, roasted red pepper, and basil served on a Focaccia bun and paired with Goose Island Sofie.
Book a dinner reservation at Fadó Irish Pub on [Open Table
About Fadó Irish Pub -
Fadó (pronounced fuh-doe) Irish Pub, located at 100 W Grand Ave in the River North neighborhood of Chicago, was the first Irish pub to be designed and constructed in Ireland and shipped and installed in Chicago in 1997. Fadó has recently undergone an extensive remodel, offering regulars and new customers alike a uniquely modern setting, yet familiar and laid back atmosphere. Fadó is distinguished by its genuine Irish hospitality, quality of its pints and craic (pronounced 'crack', a uniquely Irish form of fun). Fadó has been voted 'Best Of' by a number of local and national publications and is a favorite of International, US, and MLS soccer fans. Fadó is a proud member of the Official US Soccer Bar program and is the city's go-to spot for English Premier League, USA Men's, Champions League, La Liga, Serie A, Scottish Premier League, World Cup and much more. Get in on the conversation on the pub Facebook page facebook.com/fadochicago or by following Fadó on Twitter @fadochicago and Instagram @fadoirishpub