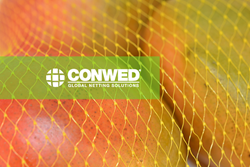 Minneapolis, Minnesota (PRWEB) October 30, 2014
Conwed, the leading plastic netting manufacturer in the world, showcased its entire packaging netting portfolio at the 2014 PMA Fresh Summit Convention + Expo in Anaheim, CA (October 17-19, 2014). With an average attendance of 20,000 people including food retailers, industry suppliers, wholesalers, growers and importers/exporters, Fresh Summit is one of the top produce and floral events worldwide.
Conwed manufactures Vexar® extruded and knitted plastic netting for diverse packaging applications. "We know how diverse the produce packaging world can be, so we have developed an expertise in customizing our netting configurations to meet our customers' specific packaging applications. Exhibiting at Fresh Summit helped us communicate our value to the entire packaging supply chain," said Bart Sistrunk, Packaging Business Unit Manager at Conwed.
With over 45 years of experience and five manufacturing plants worldwide, Conwed offers a complete line of Vexar® Mesh Bags made from flexible but durable extruded plastic netting that gently conforms around delicate produce while providing the strength needed to contain and protect different product types. Vexar® Mesh Bags include: header, heat sealed, wicketed and cut and clipped bags.
Conwed tubular mesh can also be used in all packaging equipment handling plastic mesh. "Our tubular mesh is used in Form, Fill & Seal, Carry Bag, Net Clipper, Carousel and other automatic equipment from different well-known equipment companies," said Sistrunk. "We specialize in manufacturing netting and we can adapt to fit our customers' existing equipment."
In addition to its customization capabilities, Conwed is committed to food safety. "Conwed has its food safety program fully integrated into their ISO 9001-2008 Quality Management System and audited regularly for compliance by QMI Global," said Sistrunk.
For a complete overview of Conwed Packaging and its manufacturing capabilities, visit http://www.conwedplastics.com/packaging.
About CONWED
Conwed is the leading plastic netting manufacturer in the world. Conwed manufactures extruded, oriented and knitted netting with unique customization capabilities. Headquartered in Minneapolis, Minnesota, Conwed has five manufacturing locations on two continents and a global distribution network.