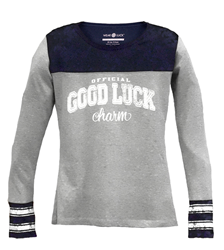 These Wear Luck "Official Lucky Charm" shirts are perrrfect for the Dallas Cowboys game! Lin Johnson, trainer of the Dallas Cowboy Cheerleaders
Little Rock, Arkansas (PRWEB) October 31, 2014
Football season is when everyone shows their team spirit. The results of months of practice are put to the test on the field. People everywhere are wearing shirts with their team's mascot, team chant or Go Get 'em message. Sometimes people want to wear something different, something that gives their team an advantage over their opponents.
Wear Luck knows the secret to any game is Good Luck! That is why they have designed a new shirt, just for football season. It's the new Official Good Luck Charm shirt, made in soft stretchy cotton fabric with trendy athletic stripes at the cuffs. Shirts come in colors that support most favorite football teams - heather grey with Navy, great for Dallas Cowboy, Chicago Bears, Detroit Lions and Denver Broncos football games; heather grey with Cardinal Red, perfect for Alabama, Mississippi, Arkansas, Washington Redskins and Arizona Cardinals football games; and heather grey with Purple, ideal for LSU, Baltimore Ravens and Minnesota Vikings football teams. Stand out in the crowd by being the Good Luck Charm! Be the team's secret weapon.
Shirts are available online at http://www.wearluck.com. Great for gift-giving and tailgating. Perfect for fall, these shirts can be worn alone or layered for added warmth as it becomes cooler. Be the most popular person at the game!
Wear Luck, located in Little Rock, is a division of TRIVIA Marketing a 28 year old marketing company specializing in garment printing and sewing for stores and corporations across the US. Founded in 2004, Wear Luck provides apparel that inspires Good Luck. Through lucky colors, symbols and messages, Wear Luck makes a positive impact on women's lives. Michelle Hastings - Ringleader and founder of Wear Luck and TRIVIA Marketing. Beth Wickliffe - National Sales Manager of Wear Luck.