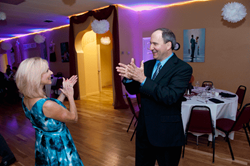 St.Louis, Missouri (PRWEB) October 31, 2014
Dance Pizazz, the St. Louis area's funnest, friendliest dance studio (http://www.dance-pizazz.com), wants to share part one of its six part series on Dance Etiquette; What to Wear. It's important when attending dance events and lessons to dress appropriate.
Events are often classified by a dress code. Dress codes range from White Tie to Casual. Below are the definitions of what each of these mean:
White Tie: White tie is the most formal. The Lady is to wear a full ball gown, which is full length, and more elaborate and full than those worn at black tie events. The gentleman is to wear a black tailcoat with matching pants trimmed by satin on the outside of each leg, a white pique' tie, white pique' vest, and a wing-collar shirt with stiff pique' front.
Black Tie: The lady is to wear a ball gown which can range from mid-calf length to full length. The gentleman is to wear a black tuxedo coat, pants trimmed with a satin ribbon along the outside of the leg, with a cummerbund and bow-tie.
Black Tie Optional: Same as black tie, but the gentleman have the option to wear a suit and tie, and the ladies can wear a long to full length cocktail gown or dinner dress.
Formal: The lady is to wear a cocktail gown or dinner dress, and the gentleman in a suit and tie.
Semi-Formal: The gentleman is to wear dress pants with dress shirt and tie, with the option to wear a jacket, vest or sweater that shows the tie. The lady is to wear a dinner dress but skirts and flowing pants are also acceptable.
Dressy Casual: This is more common sense fashion, examples for men are polo's, button down shirts, solid color t-shirts, dress pants, modern jeans. The ladies can also wear a wide variety with a bit of common sense which includes, skirts, dress pants, free flowing pants, leggings, and most any type of shirt or dress.
There are many types and styles of dance: Argentine Tango, Salsa, Swing, Ballroom, Country Western and a whole lot more. These all have a slightly different twist to their style and appropriate clothing. Argentine tango has a semi-formal event typically with dark colors worn. Salsa has a dressy casual event that often has the girls in a sexier outfit, and the guys in jeans and a button up shirt. Swing has a retro dressy casual style to it and is a lot less dressy than other forms of dance. Jeans, sneakers, and t-shirts are common at swing events. Ballroom has a semi-formal to formal event and is typically more dressed up than the other dances. Country western has a dressy casual event that has jeans, button up shirts, belts, and cowboy boots.
Some other dress code musts are to avoid sleeveless shirts or strapless dresses. Touching damp skin on a partner is an uncomfortable feeling. Regardless of the style, dance shoes are highly recommended. Shoes such as sneakers stick to the floor and can lead to injury. Guys should avoid wearing a big belt buckle in dances with turns. The ladies turning arms often get caught on these. Gentleman should also keep any hard objects in their left pocket to since the ladies are more often on their right side.
At Dance Pizazz we understand how important it is for students to have a proper dance experience. That is why we practice proper dance etiquette at all times. Check out http://www.dance-pizazz.com to learn more about dance etiquette and its importance to your dance experience.