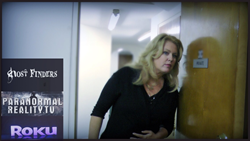 I feel a lot of activity going on in the theater with actresses rushing around getting ready for a performance, which is happening in a different realm from our own physical reality.
Langhorne, PA (PRWEB) October 31, 2014
Faint footsteps on the stairs. Spooky singing in the attic. Eerie apparitions in the hall. Who you going to call? "Ghost Finders"! At least if you're in Pennsylvania, where a dedicated team of paranormal investigators produces what their website calls "Pennsylvania's ONLY home grown Paranormal Reality Show."
In the newest episode of Ghost Finders, scheduled to air October 31st to ROKU subscribers on Paranormal Reality TV and the Ghost Finders website, a spiritual medium from Psychic Source, the most trusted psychic service since 1989, spearheads an investigation of the Ritz Theater in Scranton, PA, where paranormal activity has been reported. Kimberle is taken to the theater without any prior knowledge of the location or the stories surrounding it.
The building itself looks like a modern movie theater, with no signs of its bawdy burlesque past. The name was changed several times, and it was more recently used as a movie house with projectors.
"I can see there are women getting ready… and they want to make me up too, like I'm one of them," says Psychic Source Advisor and Medium Kimberle as she explores the energies in the basement of the old theater building. "I feel a pressure," she adds, "but not in a bad way. It's a very positive feeling."
According to Maryanne Fiedler, Marketing Director at Psychic Source, "It's such a great opportunity for one of our psychic advisors to participate in this type of paranormal investigation, using her gifts to shed light on what can seem scary or spooky. Kimberle is a gifted medium, and she brings the same amazing spiritual abilities seen in the latest episode of 'Ghost Finders" to her psychic readings for Psychic Source customers."
A preview the Halloween episode of "Ghost Finders" is on http://youtu.be/mjWv4krOtQY and the whole episode could be viewed at http://youtu.be/6EK0JnHsP3g.
*****
About Psychic Source:
Founded in 1989, Psychic Source is the nation's oldest and most respected psychic service. Psychic Source's advisors are experts in astrology, horoscopes, numerology, tarot cards, clairvoyant readings, and many other psychic disciplines. Psychic Source believes in its community of authentic Psychics and stands behind the authentic psychic readings they deliver to clients. Visit them online at http://www.psychicsource.com.
For more information, contact:
Maryanne Fiedler, Marketing Director
maryanne(at)psychicsource(dot)com
215-953-8568