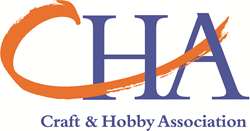 Elmwood Park, New Jersey (PRWEB) October 30, 2014
The Society of Decorative Painters (SDP) today announced they have entered into a management agreement with The Craft & Hobby Association to oversee and manage the operations of SDP.
SDP represents individual and business members engaged in the art of decorative painting. In addition to publishing a world class magazine, The Decorative Painter, they host an annual conference and expo, offer a certification program and support their vast network of chapters around the world. CHA, representing the entire supply chain of the craft industry, currently supports and manages a number of communities in the craft industry.
"SDP was originally founded to promote decorative painting. With this new agreement, we will have more visibility and opportunities to stay true to our original mission. We will be better able to serve our current members and attract new artists around the world," explained Pat Marler, President, Society of Decorative Painters
"We are excited to offer our support in this capacity and to help ensure the continued success for the Society of Decorative Painters and the excellent assets offered to their membership. The management agreement is a natural extension of the services CHA can provide and brings our organizations closer together for mutual benefit. We look forward to greater connections that will ultimately advance all our creative marketplaces," explained David Murray, Chairman, Craft and Hobby Association
"CHA is here to support all communities engaged in creative expression. We look forward to working with the SDP board and staff to promote their organization and foster stronger connections between both memberships to support business success and growth within the creative arts industry," explained Andrej Suskavcevic, President and CEO, Craft and Hobby Association
ABOUT THE CRAFT & HOBBY ASSOCIATION
The Craft & Hobby Association (CHA) is an international nonprofit trade association consisting of thousands of member companies engaged in design, manufacture, distribution and retail sales of products worldwide in the craft and hobby industry. For more information about CHA, membership or its award-winning CHA Conference & Trade Show, visit http://www.craftandhobby.org.
ABOUT THE SOCIETY OF DECORATIVE PAINTERS
SDP is a membership organization with members throughout the United States, Canada, Japan and 42 other countries. It has 300 affiliated chapters that actively promote the art form through community service projects and other painting-related activities. SDP publishes the industry's leading decorative painting magazine, The Decorative Painter; and hosts one of the largest annual decorative painting conference and expo that draws worldwide artists. For more information, visit http://www.decorativepainters.org.