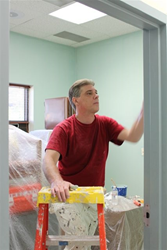 Palatine, IL (PRWEB) October 31, 2014
More than 50 volunteers from $99 per Room, Harper College and Holy Family Parish painted The Center for Employment and Business Opportunities during "Make a Difference Day," a national day of community service. The makeover included five classrooms, a large common area, three hallways, six offices, the front entry and more than 25 doors.
Little City wishes to thank its generous volunteers:
In-kind supplies valued at over $8,000 and volunteer labor approximating $7,800 made the project possible. ReNew Paint, LLC donated the paint; Sherman Williams tinted the paint. Harper College and Holy Family Parish provided painting equipment and $99 per Room supplied tools and expert advice.
A variety of group and individual volunteer projects are available at Little City seven days a week. Volunteer projects can be one-time, short-term or ongoing. For more information on volunteering, contact Catrina Johnson, Volunteer Manager at cjohnson(at)littlecity(dot)org or (847) 221-7804.
For complete information, visit http://www.littlecity.org or contact Terry Braune at tbraune(at)littlecity(dot)org or 847-221-7831.
###
About Little City Foundation
Our mission is to provide children and adults with autism and other intellectual and developmental disabilities the best options and opportunities to live safely, work productively, explore creatively and learn continuously throughout their lifetime. At Little City, there is no finish line. Our goal is to make tomorrow better than today. The only constant is our desire to change and improve. We do so by continually making great strides to further enrich the lives of those we serve and help them flourish. The organization has a 56-acre campus in Palatine and offices in Schaumburg and Chicago. Visit http://www.littlecity.org.