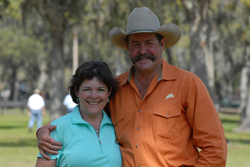 At ProChaps we fundamentally believe that equestrian Instructors such as Geneviève Benoit are the true backbone of our industry
Montreal, Quebec (PRWEB) October 31, 2014
ProChaps is a long time passionate supporter of equestrian talent, having sponsored riders who have contributed significantly to the advancement of the horse riding sport as well as equestrian Canadian and American associations and federations. "At ProChaps we fundamentally believe that equestrian Instructors and Coaches are the true backbone of our industry," says Jean Larivée, CEO of ProChaps.
Today, ProChaps is proud to announce its collaboration with Geneviève Benoit, Licensed Parelli 3-Star Instructor. On The Chaps Pros, the ProChaps blog, Geneviève shares the Parelli 7 Keys to Success. They are: Attitude, Knowledge, Tools, Techniques, Time and Imagination and Support.
On top of sharing the Parelli philosophy on the ProChaps blog, Geneviève Benoit VifArgent Horsemanship has come up with some creative alternative ways for students to continue advancing their horsemanship year round. Click on the link to see a few examples of topics she has offered in the past and for more info on upcoming Horseless Workshops:
http://vifargent.com/horseless-workshops/
Click here for more details and for testimonials about the video coaching programs. Video coaching students around the world have achieved outstanding results and are succeeding in passing the Parelli Levels.
http://vifargent.com/video-coaching/
About Geneviève Benoît
Geneviève Benoit has completed her certification with the International Society of Rider Biomechanics. A graduate of Pat Parelli's Mastery Program, Geneviève has spent over 95 weeks training at both Parelli ranches since 2003, 38 of which directly under Pat himself. In 2005, she became the first Licensed Parelli Instructor in Quebec and has been teaching Parelli ever since. http://www.vifargent.com
About ProChaps
When it comes to riding chaps, riders should look for a brand they can trust like ProChaps ProChaps has created its innovative chaps by developing a cutting edge technology using breathable and waterproof quality leather that is both comfortable and functional for the rider. They all feature a bold and stylish design that is flattering to the figure. They fit perfectly from the first time you wear them.