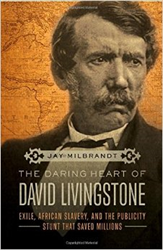 Livingstone's story has been secularized, lionized, and misunderstood.
(PRWEB) October 31, 2014
The recent Ebola outbreak in America has been driving people's faith as they pray for a cure, cling tighter to their loved ones, and find themselves closer to their god. Jay Milbrandt, author of nonfiction book "The Daring Heart of David Livingstone," traveled through Africa seeing the terrible disease and tracing the life of David Livingstone. Livingstone knew what it was to be driven by faith; through his strong belief in Christianity, he contributed to abolishing the slave trade in Africa.
In the years following his death, David Livingstone's life has been retold as the story of a man who is a rugged adventurer, a real life Indiana Jones, a one-man Lewis and Clark, and a patriotic scientist on the dangerous road to discovery. Livingstone's story has been secularized, lionized, and misunderstood. Often ignored is his contribution to the abolition of slave trade in Africa driven by his valiant faith in Christianity.
About the Author
Jay Milbrandt is a professor at Bethel University in St. Paul, Minnesota. He is a Senior Fellow in Global Justice with the Nootbaar Institute at Pepperdine University School of Law where he formerly directed the Global Justice Program. He travels throughout the world as a human rights lawyer, manages global initiatives in Africa and Southeast Asia, and consults with organizations engaged in human rights and legal development efforts. Jay produces documentaries and photography exhibits and blogs about justice, service, adventure and travel.
Visit Jay Milbrandt on Facebook at http://www.facebook.com/JayMilbrandt and on Twitter at @JayMilbrandt
For interviews or reviewer copies please contact Allen Media Strategies' Erika Schaefer at Erika(at)AllenMediaStrategies(dot)com or call 703-589-8960.