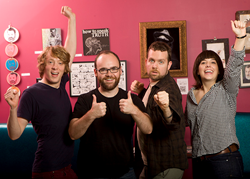 Owings Mills, MD (PRWEB) November 03, 2014
You'll be a part of the performance when the cast of the internationally renowned improvisation troupe the Upright Citizens Brigade (UCB) Touring Company takes the stage at the Gordon Center for Performing Arts Saturday, January 31, 2015, at 8:00pm.
Four actors/comedians will be on the stage before you. No lines will have been planned, no characters assigned. The evening, as far as you'll be able to tell, will be a blank slate.
The actors will want you to give them some kind of verbal direction from which to run – pick a word, any word – and then they'll run with it, for ninety minutes of non-stop comedy.
Amy Poehler, of Saturday Night Live and Parks and Rec fame was one of the founders and original four members of the Upright Citizens Brigade. Now named the "Hot Farm Team" by Rolling Stone magazine, the UCB is widely recognized as home to today's funniest actors and writers.
To gain more insight into improv and the philosophy and technique behind this outrageously funny comedic art, go to http://www.nytimes.com/2014/02/23/arts/upright-citizens-brigade-writes-its-book-on-improv.html
Among UCB's esteemed alumni include several performers and writers for Saturday Night Live, The Office, The Daily Show with Jon Stewart, The Late Show with David Letterman, Late Night with Conan O'Brien, The Ellen DeGeneres Show, 30 Rock, Old School, and countless other films, commercials and television shows.
Performers who have gained success continue to lend their talents to UCB's theatres (based in New York City and Los Angeles) and training center (based in New York City).
"This is going to be an hysterical evening," said Randi Benesch, Managing Director of the Gordon Center. "The late Robin Williams, Mike Myers, Will Ferrell, Alec Baldwin, Tina Fey -- each appeared in shows at UCB's base theatre in New York. Tonight, we're being treated to a very hip, very cool improv scene. People – prepare to cry you'll be laughing so hard."
As a special treat, the Baltimore Improv Group will open for the Upright Citizen's Brigade Touring Company. Further, tickets to the show include one complimentary beer courtesy of another UCB, Baltimore's Union Craft Brewing.
This concert is co-presented with IMPACT, the young adult division at The Associated. Tickets are $25 in advance; $29 at the door, and may be ordered online at http://www.gordoncenter.com. The Gordon Center is located on the campus of the Rosenbloom JCC at 3506 Gwynnbrook Ave., Owings Mills, MD 21117. The Box Office can be reached at 410.356.7469.
The Peggy and Yale Gordon Center for Performing Arts is Baltimore County's premiere arts destination. The Gordon Center offers an eclectic variety of professional entertainment in music, theater, dance, family programming and film. You will experience world-class acoustics in an intimate, state-of-the-art venue. Free parking in well-lit spaces, handicap accessible, and equipped with a special RF system for the hearing impaired, the Gordon Center can be enjoyed by all.