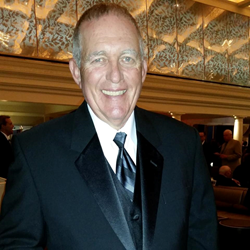 We are proud of Joe's accomplishments and this award is well-deserved.
Woodland Park, NJ (PRWEB) November 01, 2014
The Meadowlands Regional Chamber has named Joe Roth, president & CEO of the NJ Sharing Network, among its distinguished honorees at its 41st annual gala.
The event, held October 16 at Westmount Country Club in Woodland Park, saluted Roth for his leadership of NJ Sharing Network over the past 16 years. NJ Sharing Network, headquartered in New Providence, saves and enhances the lives of thousands each year through the gift of organ and tissue donation.
"We are proud of Joe's accomplishments and this award is well-deserved," said Jim Kirkos, president & CEO of the Meadowlands Regional Chamber.
Roth, of Morris Plains, joined NJ Sharing Network in April 1998. Previously, he served as Director, Government Affairs at Schering-Plough Corporation (now Merck). Roth is a member of the New Jersey State Health Care Administration Board.
Roth received the prestigious AOPO/Cryolife Achievement Award in 2010 and the AOPO President's Award in 2000. In 2009 he received the New Jersey League of Municipalities Distinguished Public Service Award. Roth was named the 2003 Healthcare Professional Triangle Award honoree by the New Jersey Transplant Association for his dedication to saving lives through organ donation and transplantation.
Learn more about the work of NJ Sharing Network by visiting njsharingnetwork.org.
About NJ Sharing Network
NJ Sharing Network is a non-profit, federally designated organization responsible for the recovery and placement of donated organs and tissue for New Jersey residents in need of life-saving transplants. NJ Sharing Network partners with Donate Life America, a not-for-profit national alliance that drives communities to increase their numbers of registered donors. NJ Sharing Network honors those who gave, pays tribute to those who received, offers hope to those who continue to wait, and remembers the lives lost while waiting...for the gift of life.
To learn more, get involved, and register as an organ and tissue donor, visit http://www.NJSharingNetwork.org.