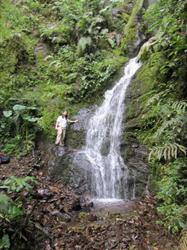 "It's a rewarding job," said Katherine Pitz, a senior. "I like how you can see your work benefitting a community.
FAIRFIELD, Connecticut (PRWEB) October 31, 2014
Having access to safe drinking water and ensuring it remains sanitary is an uphill battle in many corners of the globe. It's a major priority right now for a rural farming community in northwestern Bolivia where many have been sickened by unclean water.
That is where a group from Fairfield University's School of Engineering has been working to improve drinking water conditions at the Unidad Academica Campesina (UAC), "the united college for the peasants." A branch university of the Catholic University in Carmen Pampa, the institution draws from 19 villages, offering bachelor's degree programs in nursing, veterinary science, agriculture and teaching. Residents in the lush, warm jungle region have recently reported a 50% reduction in stomach distress since the Fairfield team installed chlorinators there.
"In Bolivia, there is minimal infrastructure for water and wastewater treatment overall," said Bruce Berdanier, Ph.D., professor and dean of the School of Engineering, who helped lead the two-week service trip to the school, the second such trip in the past year. "There's also a lack of resources, such as money, tools, personnel, replacement parts, adding to the maintenance challenges there. This was an opportunity to teach students how engineers can collaborate to design new systems, fix problems and provide service to people less fortunate than us."
Three Fairfield mechanical engineering majors and one math major accompanied Dr. Berdanier on the recent trip. They worked alongside a student chapter of "Engineers Without Borders" from South Dakota State University, where Dr. Berdanier was formerly professor and department head of Civil and Environmental Engineering. In Carmen Pampa, many residents and students have been afflicted with stomach distress due to the poor drinking water quality. Because of expansive growth of the student population at UAC, the school has had challenges with providing adequate potable water systems.
With financial assistance from the Fairfield Rotary Club, the Fairfield group focused their energies on installing and fixing two chlorinators, devices that destroy bacteria and other organisms that can lead to disease. Thanks to their efforts, two chlorinators were implemented to provide safer drinking water treated to World Health Organization (WHO) standards for developing countries. "We will not be able to get their drinking water to U.S. treatment standards with our current projects, but we can make it a lot better," said Dr. Berdanier.
Current United Nations' estimates indicate that 780 million people still lack access to clean drinking water and 2.5 billion people do not have access to proper sanitation.
For the students, they learned firsthand how engineers can make a difference.
"It's a rewarding job," said Katherine Pitz, a senior mechanical engineering major from Lagrangeville, N.Y., of her second trip to the college. "I like how you can see your work benefitting a community. I also enjoy the connections that I've made through this project, the people I have met, and I enjoyed being immersed into a different culture."
Kaitlin Maciejewski, of Fairfield, Conn., was not only travelling abroad for the first time, but undertaking her first service-learning trip. Fairfield, a Jesuit institution, places a high priority on service projects. "I have always planned on doing volunteer work, such as Engineers without Borders, Teach for America, or volunteering abroad, and this experience solidified those plans."
School of Engineering classmates James Brendan McGlew and Sean McGuinness helped Pitz and Maciejewski work on the second step for drinking water treatment necessary in developing countries. That is, they did survey work for planned slow sand filters, comprised of layers of sand and gravel that remove pathogens from contaminated water.
"One thing I did that I have never done before was survey between water sheds," said McGlew, a senior mechanical engineering major from Briarcliff, N.Y. "We had to work as a team with both the [South Dakota] engineering students and students and inhabitants at the Bolivian university. We had no prior interaction."
Other challenges lay ahead for the Fairfield engineers. Due to extensive farming in the area – and the cutting down of the tropical jungle to make room for crops – runoff into the rivers containing contaminated soils has greatly impacted some of the drinking water intake locations. This poses a threat to area homes. That's because most people have a water line running to their houses that contain untreated river water. The fulfillment of future service projects to install sand filters and protect water sources will help to address those concerns.
The students said they look forward to returning to the Bolivian community, which has been appreciative of their work.
"Bolivia was a great experience and I think more of the engineering students here should look into doing it," said McGlew. "You won't get another chance like it."
Maciejewski agrees. "I really want to go out into the world and use my skills learned in school to do good," said the math major with a minor in engineering. "I would jump at the chance to go on a trip, or even just work on research domestically for a trip like this, again."