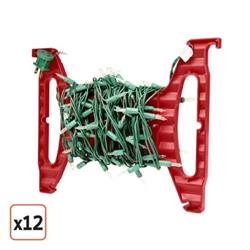 Urbana, IA (PRWEB) October 31, 2014
Online retailer JustPlasticBoxes.com has added many new plastic boxes designed for storing Christmas lights, wreaths, wrapping paper, ornaments, and other holiday accessories. These specialty products add to the company's ever-expanding product offerings, which include everything from simple storage boxes to specialized containers.
Product Specialist Tammy Karr says the new Christmas storage products are packaged in multi-packs and priced for bulk quantity sales to save their customers time and money.
"By offering our holiday storage boxes in multi-packs, we are providing a double service for our customers," said Karr. "Not only can they fulfill all of their Christmas storage needs in just one visit to our site, but they will also save money by buying in bulk."
Karr says the company also offers a special pricing structure for customers who want to purchase more than one case pack of a product. For example, the price of one twelve-pack of Christmas Light Organizers is $35.99. The price per pack drops by as much as 14% when the customer purchases additional multi-packs. Charts with cost savings are posted clearly on each product page.
Although the cost savings are substantial for buying in bulk, customers may request single quantity pricing by calling the company's toll free sales line at 800-736-0651. JustPlasticBoxes.com also offers free shipping on all orders, with transit time of generally one to four days in the continental United States. Customers are welcome to call the sale's line or contact the sales team online for pricing inquiries or for more information about the new Christmas storage boxes.