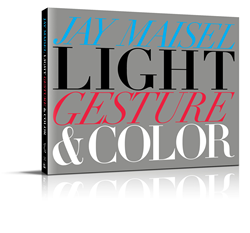 Jay's advice will change the way you take your next image - Mia McCormick
Tampa, Florida (PRWEB) November 11, 2014
For the first time ever, Jay Maisel, internationally acclaimed as one of the most brilliant, gifted photographers of all time, puts his insights and learning moments from a lifetime behind the lens into Light, Gesture & Color, in his latest book available from KelbyOne on November 1, 2014.
Maisel's new book, Light, Gesture & Color was born from the principles that have guided his enduring career. The book stresses the three most important aspects of street photography: light, gesture and color. It also challenges photographers to rethink the bigger picture of photography by learning to find the extraordinary while being surrounded by the ordinary.
Jay Maisel, a gifted photographer, mentor, teacher, and trailblazer to many photographers, has changed the way many photographers worldwide see and create their photographic images. With a career that spans 61 years, his name is synonymous with vibrant color photography that uses light and gesture to create countless unforgettable images for advertising, editorial and corporate communications.
Photographers, from hobbyists to professionals, can expect a visual experience that helps train the mind and the eyes to see and capture the world in a way that delights, engages and captivates viewers. Light, Gesture & Color is being hailed as the key to opening another level of understanding, appreciation, wonder and creativity from behind the lens. Maisel's brilliant way of communicating the essence of street photography not only visually stimulates but also helps to break through the creative barriers most photographers tend to face.
Those interested in learning more about the book can download an excerpt of Jay Maisel's Light, Gesture & Color, by visiting kelbyone.com/jay.
For more information about Jay Maisel's Light, Gesture & Color and how to order, visit kelbyone.com.
About Jay Maisel:
After studying painting and graphic design at Cooper Union and Yale, Jay Maisel began his career in photography in 1954. While his portfolio includes the likes of Marilyn Monroe and Miles Davis, he is perhaps best known for capturing the light, color, and gesture found in everyday life. This unique vision kept him busy for over 40 years shooting annual reports, magazine covers, jazz albums, advertising and more for an array of clients worldwide. Some of his commercial accomplishments include five Sports Illustrated swimsuit covers, the first two covers of New York Magazine, the cover of Miles Davis' Kind of Blue (the best-selling jazz album of all time), twelve years of advertising with United Technologies, and a litany of awards from such organizations as ICP, ASMP, ADC, PPA, and Cooper Union.
About KelbyOne:
KelbyOne is the world's leading online education resource for creatives with training on Photography techniques, Adobe® Photoshop® and Photoshop® Lightroom® training, news, and education. With more than 100,000 members in 106 countries, KelbyOne is the largest digital imaging and graphics community worldwide. For more information please visit kelbyone.