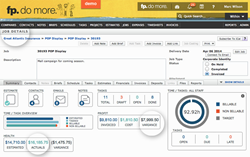 We wanted to have a better understanding of the problems our users are trying to solve on a daily basis, both within and outside the software.
Vancouver BC, Canada (PRWEB) October 31, 2014
All-in-one project management solutions provider Function Point Productivity Software initiated a two-month customer service study to better understand their clients' needs. The research involved 16 different clients, with the purpose of discovering how to further develop Function Point, in ways that help customers solve their day-to-day challenges. Tate Lillies, VP Product, and Cheryl Chung, UX/UI Specialist at Function Point, made day-long visits to study how clients—digital agencies, a mobile app developer and an experiential marketing company—use the software throughout routine operations, and to give them an opportunity to provide input into the development and growth of the product.
The client study began with six firms in Vancouver, including BCIT, Carter Hales Design Lab, Conquer Mobile, Relevention, Now Communications and Blink Media Works. The Function Point development team then travelled to the eastern seaboard, where they worked with the American Cancer Society and Fred Agency in Atlanta, BlackDog Advertising and VS Brooks in Miami, and CoCollective and Ready Set Rocket in New York. In Toronto, the study included clients Diamond Integrated Marketing, TPM Communications and Traffic Group. A visit with United Creations in Seattle rounded out the extensive study, which encompassed a healthy cross-section of various size companies, from smaller firms with a staff of 11, up to medium sized businesses of 65 employees.
"We wanted to have a better understanding of the problems our users are trying to solve on a daily basis, both within and outside the software," said Lillies. "Our primary activities were to observe our clients using Function Point, and give them a chance to comment on their experience, rather than us presenting or explaining existing features." The strategy of the study included a goal to answer a number of high-level questions: Is Function Point trying to solve the right problems for its customers? What is the project management software doing well? How can we best serve our clients? Are there other opportunities to solve some of the issues in the creative agency industry? What will agencies need in the next few years, and how can we deliver that support?
Solid research has answered these questions and will have a direct impact on product design and strategy for the future, both near and long-term. The study has revealed commonalities in the challenges creative and digital agencies run into, as well as current shifts in the industry, giving Function Point a clearer understanding about how to help them. Instead of addressing issues and implementing features on an individual basis as they crop up, the software company can now make improvements within the scope of a unified approach. Most importantly, the research has aided in positioning clients at the centre of the firm's software development program. As Function Point evolves and expands, the company will be well placed to address the project and financial management workflow needs of their clients.
About Function Point Productivity Software Inc.
Function Point Productivity Software is the leading all-in-one project management solution specially designed for ad agencies, design studios and internal marketing departments who are looking to streamline their business. Our integrated software combines project management, time tracking, CRM, financial, and business reporting tools in one convenient cloud based system. Easy, effective, and efficient — do more with Function Point.