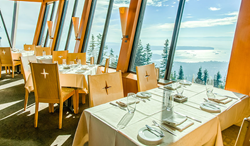 ... there are plenty of great things to do and lots of places to fuel up for the next adventure on Vancouver's North Shore.
Vancouver, British Columbia (PRWEB) October 31, 2014
Whether hitting the slopes, the trails, the links, or the beach, there are plenty of great things to do and lots of places to fuel up for the next adventure on Vancouver's North Shore. The Beach to Peak Culinary Trail starts with a tasty treat in Deep Cove and ends with a sky high fine dining experience atop Grouse Mountain, is a great way for visitors and locals to explore all that the North Shore has to offer.
1. Honey's Doughnuts & Goodies - Whether its breakfast, lunch, or a mid-afternoon snack all of Honey's food is prepared from scratch and on location. However, as their name would suggest, no visit to Honey's is complete without sampling one of their delicious, mouth-watering doughnuts.
2. Kayaking in Deep Cove - After fueling up at Honey's, it's only a hop, skip, and a jump to the tranquil waters of Indian Arm are perfect for an early morning kayak. Cameras are a must as the views of Indian Arm and the North Shore Mountains are nothing short of spectacular.
3. The Crab Shop - For over 40 years, people have travelled the world over just for a taste of the Crab Shop's legendary fish & chips. The Crab Shop also sells the freshest halibut, cod, salmon, shellfish, and crab pulled daily straight from the nearby waters of Burrard Inlet.
4. Lonsdale Quay Market - From one of a kind restaurants and cafés, to food shops, farm fresh market produce, baked goods and much more, visitors can easily spend the better part of an afternoon exploring the aisles at Lonsdale Quay and only feel like they have just skimmed the surface. On the way out, craft beer lovers can sample a pint of the Pie Hole Pale Ale at Green Leaf Brewing Company.
5. Capilano Salmon Hatchery - Visitors can learn about the different species of fish that call the Capilano River home and develop a new appreciation for the important role that hatcheries play in keeping fish populations at healthy, sustainable levels.
6. The Observatory Restaurant - Top off the day at the Observatory Restaurant at Grouse Mountain for an unforgettable dining experience. Guests will enjoy spectacular seasonal dishes from renowned Vancouver chef Dino L. Gazzola while taking in stunning views of the city down below.
For more tips on planning a decadent foodie adventure on Vancouver's North Shore visit the region's travel inspiration website – 604pulse.com.
=============
604pulse.com is the official blog of the Vancouver, Coast & Mountains Tourism Region and is dedicated to exploring all the things to see and do in the region to share with visitors. This fall VCM is featuring a number of culinary inspired itineraries to showcase the region's food-scene.
About Vancouver, Coast & Mountains: Vancouver, Coast & Mountains, one of six tourism regions of Super, Natural British Columbia, includes four destination areas: Metro Vancouver, Sea to Sky Country, Mighty Fraser Country, and the Sunshine Coast. This non-profit society is governed by a private sector board of directors who represent business and community tourism interests from throughout the region. VCMBC works with Destination British Columbia to utilize their combined resources and provide greater benefits to the provincial tourism industry through an integrated web presence. For more information about Vancouver, Coast & Mountains visit our website or call 604-739-9011.