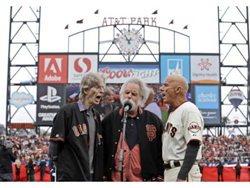 San Francisco, CA (PRWEB) October 30, 2014
As the San Francisco Giants win their third World Series in the past five years, gig bag and instrument case maker Reunion Blues takes a moment to celebrate their victorious home team.
With third base coach Tim Flannery, frontman of the popular bay area band Tim Flannery And The Lunatic Fringe officially in the brand's family of artist endorsers, Reunion Blues has a lot of love and support for the Giants. Earlier this month, at National League Game 3, Tim "Flan" Flannery sang the National Anthem alongside fellow musicians Phil Lesh and Bob Weir of the legendary Grateful Dead - a testament to Tim's talent both on the field and on the stage.
The Giants historic victory firmly cements their Major League Baseball Dynasty status. A key element to the win included another shutdown performance by pitcher Madison Bumgarner, whose postseason performance is one of the best in baseball history. Stand out performances by "Panda" Pablo Sandoval and Buster Posey also played a pivotal role, but ultimately, the Giants owe their win to their incredible teamwork. "We've got a great culture here. We love and appreciate everyone's loyalty and commitment, their work ethic. We feed off of each other, and we have a hell of a time together. We're fully invested," says architect and GM Brian Sabean. Together, they did the nearly impossible. The Giants are the only team to win 3 World Series in a five-year span since the Yankees of 1996-2000.
At the end of the day though, Flannery is an artist, and his passion is music. "Let me tell you something," says Giants pitcher Jake Peavy, who hauls his guitar on the road and plays with Flannery late into the night, "Flan is really, really good. He's such a talented musician, he can make a living doing that if he weren't in baseball." Reunion Blues is proud to support the San Francisco Giants, and Tim Flannery in all his pursuits.
For more information, call 800-950-1095 or visit http://www.reunionblues.com.
Founded in 1976, Reunion Blues is the music industry's premier gig bag and case company. Reunion Blues offers an extensive product selection including over 100 models of cases and bags for fretted, brass, woodwind, strings and percussion instruments.
Reunion Blues is dedicated to maintaining exceptional quality, and is committed to product innovation, superior design and distinguished style.