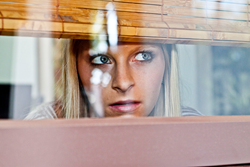 Restraining orders do not help when someone is intent on hurting you and an alarm is not going to stop them from coming in.
Nashville, TN (PRWEB) October 31, 2014
October is Domestic Violence Awareness Month. While the Ray Rice case (and other high profile NFL player cases) brought national attention to the subject of domestic violence, this is an issue that is much more widespread than most people realize.
The disturbing fact is that 1 in 3 women will experience some form of domestic violence during their lifetime. What is more disturbing is the fact that 1 in 3 female homicide victims are murdered by their current or former partner.
On September 30, 2014 a Baltimore, MD police officer kicked-in a door and then assaulted and threatened to kill his wife and her boyfriend. The break-in was caught on tape and shows how easily someone intent on doing harm can enter a residence.
Security expert Alan S. Young makes some clear points about potential victims taking steps to protect themselves. "Thousands of women each year are abused or killed by estranged exes or others with restraining orders that simply kick-in doors and enter. Thousands are abused at home and have no idea how to protect themselves," Young said.
The public has seen or heard other stories of ex-husbands or boyfriends breaking down a door to assault or do worse to a woman. There are more stories of loved ones who have been beaten or worse by husbands or significant others, with whom they currently live. Whether the assailant comes from inside or outside of the home, it is important to take steps to protect women and men from becoming victims in the future.
For keeping potential violent offenders out, Young recommends implementing some simple door security solutions. To prevent kick-ins, Young recommends installing an ANSI grade 1 deadbolt and door jamb reinforcement. EZ Armor is a door security solution that costs $69.00 and can be purchased at Lowe's and Menards or on the armorconcepts.com website. Young says, "Keeping a violent spouse or ex outside may give someone time to call police or get out of their home. It may also give the perpetrator time reconsider what they are doing and calm down. Restraining orders do not help when someone is intent on hurting you and an alarm is not going to stop them from coming in."
So what happens when the offender has already entered a home? Since many domestic violence incidents involve individuals that are already in a relationship, it is important that potential victims understand how to have a proper defense. Young suggests that having pepper spray or a stun-gun handy could give someone the precious moments needed to escape a bad situation.
What about guns? While Young says that he supports everyone's right to carry a firearm, he also wants people to be aware of the potential risks. "While guns always seem to come up as a potential answer, it is important to understand that there may not be enough time to react if someone is in the home quickly. Also. While it may be justified, there are a number of people in jail right now for killing an abusive spouse or intruder. Unfortunately the justice system is not perfect. Pepper spray or a stun-gun may provide the time necessary to get out of the situation without actually killing someone, but different circumstances sometimes require different responses."
Finally, Young stresses the importance of getting help for individuals that have been or are currently being abused. Young recommends going to the police and reaching out to local organizations like the YWCA or Safe Horizons (safehorizons.org) for assistance dealing with abusive situations. "The most important thing is that any person, who has been abused or threatened, should take the proper steps to get help. Many domestic violence experts will tell victims that 'if they hit you once, they will hit you again'. The longer a person stays in an abusive situation, the worse it is likely to become. This is a very sensitive topic but one that really needs to be discussed."
Domestic Violence Statistics:

1 in 3 women (and 1 in 4 men) will experience domestic violence during their lifetime.
1 in 7 women will experience stalking in their lifetime
Women ages 20 to 24 are at greatest risk of becoming victims of domestic violence.
Every year, 1 in 3 women who is a victim of homicide is murdered by her current or former partner.
More than 50% of all domestic violence incidents are never reported.
(source: National Coalition Against Domestic Violence)
About Armor Concepts
Armor Concepts is a Nashville, Tennessee based company that specializes in the manufacture and distribution of security solutions. Founded in 2004, the Company's EZ Armor, Door Jamb Armor and FIX-A-JAMB products are sold nationally through Lowe's, Menards, ACE and Do-It-Best hardware, among other retailers. The Company has been featured nationally on Bloomberg, Fox News, the CBS Early Show, NBC's TODAY show, The OMG Insider and countless local television and radio news broadcasts.
Alan S. Young is a security expert and is Armor Concepts' CEO. Mr. Young is 2014 recent recipient of the Nashville Business Journal's "Most Admired CEOs " award. Mr. Young is a graduate of Vanderbilt University, where he earned a BS in Economics and Vanderbilt's Owen Graduate School of Management, where he earned an MBA. Following graduation, he had a brief professional football career and joined Bank of America as an investment banker, where he executed mergers & acquisitions and capital raising transactions. It was after Young began rehabbing properties that experienced repeated break-ins that he and his engineer brother formed Armor Concepts. Mr. Young has conducted hundreds of television and radio interviews on various topics relating to home and personal security.
For more information on Armor Concepts or Alan S. Young, please visit armor concepts. To book an interview with Alan S. Young, please contact Archibald Barnes at (615) 649-0689 or email pr(at)armorconcepts(dot)com