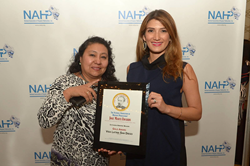 The Hispanic audience is an important and growing part of our community - Rita Jurczyk
San Diego, CA (PRWEB) November 03, 2014
U-T San Diego proudly announced that both of its leading Spanish-language publications, Enlace and Vida Latina-San Diego, have won a combined total of eight prestigious 2014 José Martí Publishing Awards.
The awards were handed out at the National Association of Hispanic Publication's (NAHP) annual conference in Oakbrook, Ill. on Sept. 24. This marks the fourth consecutive year that both publications have been honored at what many consider the nation's pre-eminent event recognizing the best in Latino journalism.
Enlace, a weekly Spanish-language newspaper that covers a broad range of topics, was honored with a Gold Award for the highest percentage increase in ad dollars in 2013; Silver Awards for outstanding business article and outstanding Latin America cultural article above 30,000 circulation; and Bronze Awards for outstanding Spanish-language weekly newspaper, outstanding cultural article, and outstanding article.
Vida Latina-San Diego, which is San Diego's most widely circulated Spanish-language entertainment magazine, TV and shopping guide, was honored with a Gold Award for outstanding newsprint magazine, and a Bronze Award for outstanding editorial column (Spanish).
"These awards are a validation that creating strong news and entertainment publications for our Spanish-speaking audience is a great investment in our community," said Robert York, senior director of strategic initiatives for U-T San Diego. "The returns are measured in more than dollars; they're measured in our increasing ability to serve San Diego and the Hispanic community."
"The Hispanic audience is an important and growing part of our community," said Rita Jurczyk, senior director of national & key advertising for U-T San Diego. "The awards validate the great work that takes place each day on both Enlace and Vida Latina-San Diego."
The José Martí Publishing Awards are bestowed annually by the NAHP, a trade advocacy organization that represents the nation's top Spanish-language publications. Collectively, these publications reach more than 23 million people in 39 states, the District of Columbia and Puerto Rico. More information about the NAHP is available at http://www.nahp.org.
For all other information, including media inquiries, contact Stephanie Brown, U-T San Diego's senior director of marketing and public relations, at stephanie(dot)brown(at)utsandiego(dot)com or 619-823-9794.
About U-T San Diego
The San Diego Union-Tribune, LLC, owner of the 146-year-old U-T San Diego, is San Diego's leading media company and its most comprehensive source of news, entertainment and information in the region. Each week, products are delivered to more than 96 percent of all San Diego County households through its integrated media portfolio: the Pulitzer Prize-winning newspaper, U-T San Diego; the website, UTSanDiego.com; Sunday's Best; the Night + Day, DiscoverSD and DiscoverSD.com weekly entertainment guides; Spanish-language products Enlace and Vida Latina-San Diego; U-T TV, an Emmy award-winning on-demand video news source; and hyper-local community papers, U-T Community Press. For more information visit http://www.utsandiego.com.