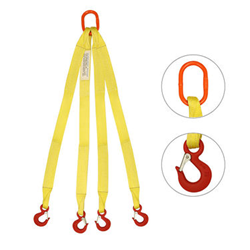 Urbana, IA (PRWEB) October 31, 2014
Iowa-based US Cargo Control has recently added hundreds of new nylon bridle slings to its lifting sling category, offering customers an easy, intuitive way to purchase the slings online.
The company began offering bridle slings manufactured in nylon last year, but only as a special order that required customers to call in and speak with a sales team member. US Cargo Control Category Manager JJ Floss said the response to the new line was so positive, the merchandising team decided to launch the products online, offering numerous styles, lengths, and ply number combinations.
"Offering this many nylon bridle sling products online with an intuitive layout and product selection process is something that is not currently offered in the industry," said Floss. "While customers can still always call us to place an order or speak with a sales team member, this is a great option for those who already know the specifics of the sling they need and want a quick way to order."
Floss says the slings feature American-made webbing and European-made hardware from Pewag. All nylon lifting slings offered by US Cargo Control are made in the USA.
Additional lifting sling options available from US Cargo Control include wire rope slings, chain slings, and polyester round slings, as well as more specialty slings such as boat slings and drum slings. Over 1000 new products have been added in 2014 across all lifting sling categories.
"Lifting slings have always been a popular category of products for us, so we're excited to continue our expansion to better serve even more customers," said Floss.
Nylon bridle lifting slings from US Cargo Control can be purchased online at USCargoControl.com or by calling the company's sales team at 800-660-3585.
###
About US Cargo Control
US Cargo Control is a leader in cargo control industry, specializing in lifting slings, cargo control, rigging equipment and moving supplies. Focused on offering quality products, timely delivery, and an excellent customer experience, customers can purchase products on the company's website, USCargoControl.com or by phone at 866-444-9990. For more information, visit USCargoControl.com.