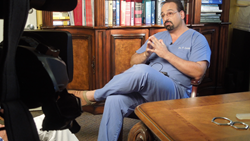 Many men want to know how to make their male member bigger or longer, but one must proceed with caution when reviewing the options available, Dr. Loria said
Miami, FL & Garden City, NY (PRWEB) November 1, 2014 (PRWEB) November 03, 2014
Dr. Victor Loria D.O., a Miami, Florida & Garden City, New York-based cosmetic surgeon, has pioneered a minimally invasive medical procedure that successfully increases the flaccid length of the flaccid penile shaft, in addition to enlarging the penile shaft, glans (head of penis), and scrotum.
The phallus elongation treatment results in an increase of penile flaccid length up to your erect length. Even though this technique is still being evaluated, it is showing great promise.
"I am continuously researching new minimally invasive techniques to accomplish great results in the male enhancement field," said Dr. Loria, a pioneer in the field of penis enlargement surgery.
The doctor has performed thousands of cosmetic procedures over the past 20 years. He has been successfully treating men with FDA approved medications for over three years. These products are permanent and are similar to those used in facial contouring treatments.
There are invasive surgeries, however, there are not many minimally invasive procedures in the world that can increase the flaccid length of the penile shaft.
Bob Druy, one of Dr. Loria's patients, is a believer. "The difference here is Dr. Loria's procedure actually works. And I'm living proof."
"There are many medical and psychological reasons why men ask how to increase penis length or to enlarge and change the shape of the penis," said Dr. Loria.
About Dr. Loria: Dr. Victor Loria, D.O., is the medical director of the Miami-New York based Male Enhancement & Penis Enlargement Medicine & Surgery Center (call 1-877–DR- LORIA or 877-375-6742).
Media Requests or Interviews: Contact Dr. Loria 786-409-5911
SOURCE Dr. Victor Loria