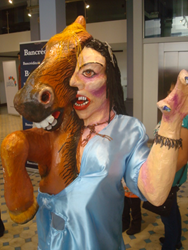 Manuel Antonio, Costa Rica (PRWEB) October 31, 2014
On October 31st, Tulemar Vacation Homes invites visitors to experience Costa Rica's Halloween, a day more commonly associated with pumpkins, trick-or-treating, and candy. In Costa Rica, it's called "Dia de la Mascarada," or "Day of the Masquerade".
Along with the Day of the Masquerade, in recent years, there's been an increasing in the amount of people who celebrate the United States' customs where kids wear costumes and go trick or treating; however, not every single community does that. It is only a very few areas within the country, and especially the ones where North Americans reside.
A few bars and discotheques celebrate Halloween with the intention of attracting more people to make more profit, rather than the celebration of the holiday itself. Costume contests are popular and prices are given to the best, from free drinks to paid vacations.
The Day of the Masquerade is meant to keep alive the traditions and costumes of Costa Rica's ancestors. Large masks are made of paper and glue, and colorfully painted to resemble the most famous Costa Rican and mesoamerican mythical characters, such as the "Cadejo" a shaggy, dog-like creature with glowing red eyes and goat hooves; "La Llorona", a weeping woman searching for the children she drowned; "La Cegua" who appears as a beautiful woman pleading for help but actually has the head of a dead horse, and "La Mona", a witch turned monkey who attacks her victims with insanity inducing laughter.
The masked dancers parade along to the music of a "cimarrona", a small group of non-professional musicians with drums, trumpets, saxophones, and accordions, and walk down the main streets of the town while spectators watch them from the sidewalks.
The traditional Halloween is a fun tradition that takes place during the day, and no candy is given. Mauricio Jara, lead concierge at Tulemar, comments, "The folklore of Costa Rica and Central America is interesting to our guests because it speaks so definitively about the region's people, landscape, and traditions. A witch-monkey who terrorizes jungle travelers at night? That's not Mary Shelley or Bram Stoker; that's Costa Rica."