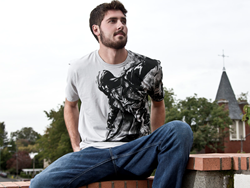 "Creative teams at both Ubisoft® and Design By Humans chose the Assassin's Creed Grand Prize Winners from over 650 unique contest submissions."
Chico, CA (PRWEB) November 03, 2014
Design By Humans (DBH) is pleased to announce all five Grand Prize winners of the Assassin's Creed Unity (ACU) T-Shirt Design Contest, which ran from August 25 - September 19. The Grand Prize winners split an amazing pool of $12,500 in combined cash and Assassin's Creed prizes. All five designs are now available for purchase on Officially Licensed Assassin's Creed T-shirts exclusive to Designbyhumans.com.
Design By Humans accepted over 650 pieces of custom artwork from 295 international artists who took on the Assassin's Creed Unity design challenge. Artists were asked to submit t-shirt designs that were inspired by the French revolution and heroic characters portrayed in the brand new Assassin's Creed Unity game that is set to release on November 11, 2014. The contest created a highly competitive environment for artists around the globe who produced some of the most inspirational artwork Design By Humans has ever seen.
Over 12,300 fans from around the world gathered at Designbyhumans.com to vote for their favorite Assassin's Creed designs. Fans chose from a groundbreaking array of highly stylized artwork - among them detailed illustrations, paintings, and vectored designs that made the selection process a difficult one. In addition to these votes, Design By Humans and Ubisoft Guest Judge and Creative Director Alex Amancio came together to select the Grand Prize winners.
Grand Prize Winner
Ubisoft and Design By Humans would like to congratulate Spanish artist OKPDESIGNSERS for his Grand Prize winning design "Falling Arno". This stunning one color design streaks across the shirt as Arno performs a controlled descent down into Paris. A homage to parkour used in the game, this design will make you feel like you want to leap through your own city.
Second Place Winner
American artist and seasoned DBH artist Gloopz secured Second Place with his design "The Assassin". Gloopz' design shows a classic illustration of Arno perched atop the ACU crest above a Paris crowd. High above the city, the Assassin watches his target through crowded streets. Armed with a sword and pistol he's prepared for any situation or any foe.
Third Place Winner
Third Place went to Slovenian artist TincekMarincek for stunning design "Ignite Revolution". A newcomer to Design By Humans, TincekMarincek exploded onto the scene with an amazing design depicting Arno in the midst of the French Revolution. Igniting a revolution has never been easy work. Set against the background of 18th century Paris during the French Revolution, Arno searches a city in flames for his target.
Fourth Place Winner
Indonesian artist and popular DBH artist Fourscore garnered Fourth Place for his design "Leap Of Faith". An early favorite and one of the first submissions to the contest, Fourscore's Leap of Faith is a colorful rendition of a classic Assassin's Creed ability to leap from a building with an eagle soaring high above. In perfect form, Arno leaps as an eagle made of pure smoke floats above him like a set of wings.
Fifth Place Winner
Fifth Place went to Philippine and well-known DBH artist Studio8worx for his design "The Perfect Spot". Studio8Worx brings his talent to bear once again with his classic colorful explosion. His unique style of blending the character with a paint brush and splatter style brings a unique take on this otherwise classic game art.
Officially Licensed Assassin's Creed T-shirts from Design By Humans are professionally screen printed with vibrant inks on pre-washed cotton blanks for minimal shrinkage. Two of these limited edition shirts (Falling Arno and The Perfect Spot) feature "all over" prints, while the rest (Leap Of Faith, The Assassin and Ignite Revolution) feature a maximized screen printed design. These Officially Licensed t-shirts are specially cut for maximum comfort and durability and are garment dyed for premium color. Officially Licensed Assassin's Creed t-shirts are available for purchase exclusively at Designbyhumans.com for only $26 each. Fans can additionally order the entire collection of 5 Grand Prize winning tees for a discounted price of $99. The 17 runner-up DTG t-shirt designs will available for purchase in the Assassin's Creed Unity Collective Store.
About Ubisoft®
Ubisoft is a leading creator, publisher and distributor of interactive entertainment and services, with a rich portfolio of world-renowned brands, including Assassin's Creed, Just Dance, Tom Clancy's video game series, Rayman, Far Cry and Watch Dogs. The teams throughout Ubisoft's worldwide network of studios and business offices are committed to delivering original and memorable gaming experiences across all popular platforms, including consoles, mobile phones, tablets and PCs. For the 2013–14 fiscal year Ubisoft generated sales of €1,007 million. To learn more, please visit http://www.ubisoftgroup.com.
Guest Judge Alex Amancio is a Creative Director with 13 years of gaming industry experience. He began his career at Ubisoft back in 2005 as the Art Director of Far Cry 2, where he helped develop the visual pipeline that would set the standard an entire generation of open world shooters. He then moved onto Creative Direction and the Assassin's Creed franchise, where he spearheaded Assassin's Creed Revelations, the anticipated conclusion to the Ezio trilogy. Alex is currently wrapping up Assassin's Creed Unity, his second Assassin's Creed title as Creative Director.
About Design By Humans
Design By Humans was started in 2007 with the simple vision of bringing artists from around the globe together to give them a platform to produce wearable art that tells a story, strengthens humanity and inspires life through creativity and design. The DBH Collective initiative is inspiring amazing artists and giving them a unique foundation to share artwork through a personal online storefront.
© 2014 Ubisoft Entertainment. All Rights Reserved. Assassin's Creed, Ubisoft, and the Ubisoft logo are trademarks of Ubisoft Entertainment in the US and/or other countries.
###
If you'd like more information about this topic, please call +855 333 9836 x 302 or email press(at)designbyhumans(dot)com.