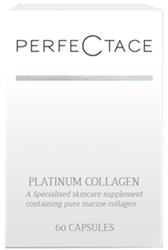 (PRWEB UK) 31 October 2014
Nutraconcepts is proud to announce the launch of Perfectace Platinum Collagen - a next generation skin-care solution featuring ingredients that help to preserve skin structure and appearance.
Perfectace Platinum Collagen is an exclusive, age defying product that works from the inside out to create a lasting, visible improvement to the appearance of skin.
The collagen, made from 100% pure, active and concentrated ingredients, features no binders or fillers and has been developed by leading experts using research based science.
The product features Peptan as its core ingredient - the world's leading collagen peptide for skin beauty. Peptan collagen peptides are made from deep sea fish skin which have high absorption rates. Peptan collagens are produced from selected, high-quality raw materials subject to continuous rigorous checks on safety and origin. This is where Perfectace Platinum Collagen differs from other collagen based products which can be made from lower quality biovine (cow) or pig sources. The Peptan collagen selected for Perfectace Platinum Collagen is of the highest quality fish-ONLY source.
Unlike many traditional skin-care products that produce a brief external cosmetic fix, Perfectace Platinum Collagen has been specially designed in capsule form to create a long-term improvement in both internal and external skin health.
Perfectace Platinum Collagen is already being stocked by several leading online vitamin websites including http://www.vitamins-direct.com.