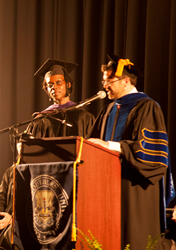 ORANGE BEACH, ALA. (PRWEB) October 31, 2014
Columbia Southern University (CSU) recently honored adjunct professor Shani Wilfred, Ph.D., as the 2014 recipient of the Robert Mayes Sr. Distinguished Faculty Award during the university's commencement ceremonies on Oct. 24.
This annual award recognizes and honors a CSU faculty member for his/her outstanding achievements and contributions in aiding the school in achieving its mission to change lives through education. Wilfred was nominated by current CSU students and endorsed by university officials for this honor.
"This award serves as an expression of our deep appreciation for the valuable service which Dr. Wilfred continues to give CSU. She truly helps change lives through education," said Jeffrey M. Barksdale, Ph.D., provost and chief academic officer for CSU.
"I am extremely grateful and humbled as I know there are so many other faculty that are equally deserving of this award," said Wilfred, who resides in Valdosta, Ga.
In nominating her, one CSU student wrote: "I was able to adjust from the undergraduate level of learning and completing assignments to the graduate level. I truly believe that had I not had Dr. Wilfred as my professor in my early courses, I would not have been as motivated to continue with my degree program."
"I try to create an environment in which the students feel comfortable interacting with me and their classmates as we move through the course," explained Wilfred, who has taught criminal justice courses at CSU for the past three years. "I want students to be able to apply the key concepts in a way that is useful beyond the course and I work with them to meet that goal."
Wilfred holds a bachelor's degree in criminal justice from Taylor University, a master's and doctoral degree in criminal justice from Indiana University.
CSU offers online certificate and associate, bachelor's and master's degree programs in various fields such as human resource management, fire administration, occupational safety and health, criminal justice and business administration.
To learn more, visit http://www.ColumbiaSouthern.edu.