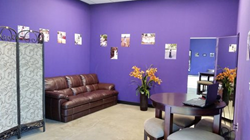 Irvine, CA (PRWEB) November 06, 2014
Online dress retailer Ever-Pretty US is now giving shoppers the opportunity to make appointments to visit the Ever-Pretty warehouse in Irvine, California, and try on two dress styles of their choice before they make any purchases. This new in-person service offers local buyers an alternative to shopping online and waiting for their purchases to ship; the warehouse stocks an extensive selection of styles and sizes to ensure that shoppers can try on any two designs that they choose during the visit. Shoppers who check in on Instagram at "Ever-Pretty HQ" during their appointments also qualify for a 10 percent discount on any purchases that they make while they are in the warehouse. Ever-Pretty limits group size during each appointment to two people and requires larger groups to schedule separate visits; additionally, during an appointment, each person may only try on two dresses, and since the warehouse is not a regular retail space with products openly on display, shoppers must specify which two dresses they wish to try on at the time that they initially schedule their appointments.
The Ever-Pretty warehouse, which is located at the Ever-Pretty headquarters on 1881 Kettering St., is open for appointments between 9 a.m. and 3 p.m. on Tuesdays, Wednesdays, Thursdays, and Fridays. As an alternative to trying on two dress styles, local shoppers may also use a scheduled appointment to pick up a pending order, rather than waiting for the order to ship, or bring in a return or exchange item, rather than shipping the item back to Ever-Pretty. For all of these services, customers must make an appointment; walk-ins are not permitted at the warehouse. Shoppers are encouraged to visit the Ever-Pretty website to place an order or to browse the available dress styles and determine which two they would like to try on during an appointment.
About Ever-Pretty US
Ever-Pretty US started out in Europe as Ever Pretty Garment Inc.; the company expanded to the U.S. in 2011 and now boasts more than 8 years of fashion industry experience. Ever-Pretty US gives shoppers easy online access to attractive, affordable, and high-quality dresses in a variety of styles, including bridesmaids, prom, homecoming, cocktail, evening, and club dresses; the company also offers expedited shipping, live help by phone or email, and various special tools, including sizing guides and color-based inventory searches, to ensure that shoppers find the perfect dress and get it in time for the next special event. To learn more about Ever-Pretty US, please visit http://us.ever-pretty.com.