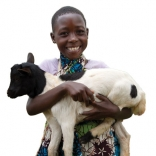 It's just a blessing
Phoenix, Ariz. (PRWEB) October 31, 2014
For many families, the holidays are a time of abundance. Bountiful meals are enjoyed with family and friends, parties and pageants are celebrated and generous gifts are exchanged. In the world's most poverty-stricken communities, however, parents and their children will barely scrape by with enough food to survive.
The holidays are also the perfect time to teach children to give back by creating a family tradition of helping less fortunate families. One way to do this is by inviting children to choose an item from the Food for the Hungry (FH) gift catalog. Giving even the youngest family members the experience of helping others in a way that creates a path from poverty to self-reliance and shows them what the spirit of the season is all about.
Below is a sampling from the FH Catalog, along with the significant impact in the lives of families that any of these catalog items can provide.
Goat ($70)
A goat provides a family with a dependable source of protein for children, as each goat gives more than a half-gallon of milk EACH DAY. Goat ownership gives families a source of income and allows them to start earning money immediately.
In 2010, Filipino couple Roberto and Mariquit Trinidad and their four children were barely scraping by. The gift of two pregnant goats changed their lives forever. The goats soon gave birth to eight kids, which were sold so that the family could afford three full meals a day, as opposed to the two small meals they were accustomed to. The goats continued to have babies, and now the Trinidad children are at healthy weights and can afford to participate in school projects.
Vegetable Seeds ($29)
Sow the seeds of hope with the gift of vegetable seeds. In addition to the tomato, onion, pepper, squash, cucumber, zucchini and legume seeds, recipients will be given training on how to grow crops and manage land.
In Haiti, the average family is lucky to earn $50 per year — far less than a family needs to eat and afford school tuition, books, uniforms and school supplies. In February 2013, Dieuseul Petit received chili pepper seeds from FH to plant on his small farm plot. The improved variety of seeds grew quickly and produced a crop in three short months. Dieuseul sold the prized peppers right away, enabling him to earn $200 — four times the average annual income! "It's just a blessing," Dieuseul said about being able to keep his family fed — and finally sending all of his children to school.
To view all items from the gift catalog, visit https://fh.org/give/catalog.
Founded in 1971, Food for the Hungry provides emergency relief and long-term development programs with operations in more than 20 countries to help the world's most vulnerable people. Learn more by visiting fh.org. Social connections include facebook.com/foodforthehungry and twitter.com/food4thehungry.
###