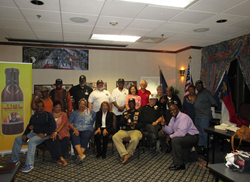 Fayetteville, North Carolina (PRWEB) October 31, 2014
The Sauce Team (TST) recently traveled to Fort Bragg, North Carolina capping a promotional tour and joined a group of veterans that were former members, spouses and Army retirees of 101st Airborne Division primarily of the Vietnam era in their annual reunion celebration. Every year former members of the 101st Airborne Division feel blessed to continue sharing memories, great fun and fellowship in various locations nationwide. In October at the 2014 celebration approximately 35 former service members gathered together and in Fayetteville, North Carolina on the installation that each former member was trained and occupied, Fort Bragg.
The reunion dinner followed several days of collaboration, celebration, reminiscing, area tours and simply catching up with longtime friends and fellow veterans extremely proud to have served their country. The leader and primary coordinator of the event was retired Army First Sergeant, Mr. William H. Swift. Mr. Swift invited TST and their guest Mr. Howard J. Henderson, United States Army Reserve Command, Deputy Command Executive Officer and his wife Air Force retired Chief Master Sergeant, Mrs. Lana R. Henderson, to join the annual celebration. The Sauce Team led by Mr. James Lee, the founder of the sauce that is loved everywhere the team travels; Mr. Ashante Vereen, Sales and Marketing Director; Mr. Curtis Jennings Public Relations Manager; and the team's newest member Mr. Ashton Vereen, Culinary Technician, culminated a tour of Defense Commissary Agency stores tour where they sampled and promoted J. Lee's Gourmet BBQ Sauce to astounding sales. Covering ten stores in five days the team engineered sauce sales averaging over 300 bottles per day. TST plans to continue promotional samplings in the various states the sauce is sold, so be on the lookout in case TST is in your store
For more information on J. Lee's Gourmet BBQ Sauce or to order online contact http://www.jleessauce.com.