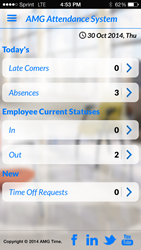 Los Angeles, CA (PRWEB) October 31, 2014
Tweet this: @AMGTime presents new time and attendance #mobile app features
Los Angeles, CA (October 30, 2014) – AMG Employee Management has created an app that makes mobile time and attendance features today's reality. Think of all of the various departments in your organization, whether physically in your building or telecommuting from all over the world. Does your company contract outside 3rd parties? Do you have "road warriors" who may not return to the roost for days-on-end? Attempting to keep accurate time and attendance records for all of these employees can leave you spinning in circles. But because of AMG Employee Management, this is a problem of the past.
Your problem is solved. AMG Attendance System has an app for that.
With the newly released AMG Attendance System app, the benefits in accountability and productivity are another way they are making light-speed advances in technology. Let's first focus on the management end. As a manager, using the AMG mobile app, you will be able to view employee time cards, status board, punch analysis, and time-off requests.
However, being a multi-faceted tool, this app does not just benefit managers. The lifeblood of every organization is its employees. And in that spirit, the AMG Attendance System app offers different options for a variety of employees (depending on employee title and permission access). This is invaluable, as it affords different access levels and maintains record confidentiality and security.
Employees will be able to perform such HR-intensive tasks as punching in and out, viewing their time cards, accessing their individual benefit balances (such as vacation time, sick days, etc.), and checking the status of their time-off requests.
The AMG Attendance System App is a smart, easy-to-use, efficient, and very convenient tool for you and your employees to access time and attendance records via a mobile device anywhere in the world. It's a simple solution for sub-contractors and those who are off-premises.
But, we've saved the best for last. Time is money. And because this premier time and attendance app cuts-down on busywork for all involved, money is saved and productivity is increased. This is especially beneficial for mobile employees, eliminating their need to drive back to the home base to clock-out for the day.
AMG's Attendance System App works on all smart phones, no matter the platform. No computers needed. With access to a smart phone, you are literally ready to go! So, head-over to Apple's AppStore or Google Play, and search for the "AMG Attendance System." It's a time and attendance mobile dream come true.
About AMG Employee Management, Inc.
With over 20 years of industry experience, AMG Employee Management Inc. is a national leader in time attendance products, software, and services. This innovative Los Angeles company has a passion for providing employers with time attendance systems that boost the accuracy of time and payroll records. Built upon a commitment to customization, AMG Employee Management will design the time employee management system that is perfect for any size business.
For more information about AMG Employee Management, please visit:
http://www.amgtime.com