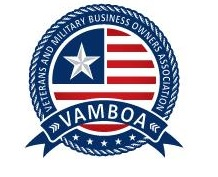 Simi Valley, CA (PRWEB) October 31, 2014
November 3rd kicks off Veterans Small Business Week, an initiative on the part of the U.S. Small Business Administration (SBA) to reach out to Veteran entrepreneurs and small business owners. The observance, which runs through November 7th, highlights the SBA's work to make sure our nation's Veterans have the tools and capital they need to start or grow a business.
"Our nation owes a debt of gratitude to the brave men and women who have worn our country's uniform," said Debbie Gregory, founder of the Veteran and Military Business Owners Association (VAMBOA). She continued, "Nearly one in ten small businesses is Veteran-owned. Moreover, in the private sector, Veterans are 45 percent more likely than those with no active-duty military experience to be self-employed."
VAMBOA, a 501(c) 6 non-profit trade association, ensures the development, growth and prosperity of Veteran Business Owners, Service Disabled Veteran Owned Businesses (SDVOB) and Military Business Owners of all sizes. VAMBOA's "Vet Owned" seal symbolizes the talent, dedication, leadership and courage of these special Americans who currently serve or have served in our nation's Armed Forces.
Veterans Small Business Week brings to the forefront what makes our nation strong. Veterans are highly-skilled and highly-trained leaders, so it only makes sense that after serving their country, they would bring these skills back home and start businesses. Additionally, the 2.4 million Veteran-owned small businesses employ almost 6 million people, generating more than $1 trillion in receipts. It's safe to say that Veteran-owned businesses are a valuable asset to the nation's economy.
VAMBOA is pleased to focus attention on Veterans Small Business Week, and salutes the SBA for promoting educational efforts, mentoring, and trainings for Veterans.
If you would like to sign up for membership, please visit http://www.vamboa.org
VAMBOA relies on corporate sponsorship. If you are interested in becoming a sponsor, please call Debbie Gregory at (877) 850-9800.
About VAMBOA
VAMBOA, a 501(c)6 non-profit organization, has been providing its members with knowledge of government provisions that help Service-disabled Veteran business owners, Veteran business owners and military business owners since 2010. VAMBOA's mission is to help drive the success of these Veteran business owners. VAMBOA also connects it members to contacts within large corporations and government agencies who can mentor members, and in some cases, can even directly provide members with government contracts and vending contracts within large corporations. Membership in VAMBOA is complimentary.