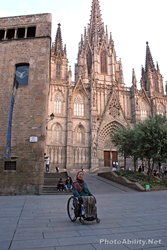 Accessible facilities are one thing, but the right imagery sends a powerful message that 'we want your business'
Miami, Fl (PRWEB) October 31, 2014
The first World Summit on Accessible Tourism was held in Montreal from October 19 to 22. The overwhelming conclusion from the 330+ delegates from over 30 countries was that Accessible Tourism was no longer a Niche market. It will represent over 25% of all tourism spending by 2020 and there is an urgent need for the Tourism Industry globally to change focus and develop new products to meet this new customer demand. It is no longer about add on access but creating new inclusive destination experiences catering for travelers with a disability and their friends. Inclusive, shared experiences are the key.
PhotoAbility's Co-Founder, Bill Forrester, who presented at the summit said, "The tourism industry needs to change its mindset towards travelers with a disability. They are now valuable customers who need specific product offerings developed for them and advertising and marketing campaigns that reflect their presence enjoying tourism experiences with everyone else."
Figures from Visit England confirmed the Accessible Tourism market growth. From 2009 to 2013 overall tourism growth in England rose by 11% while for the same period growth in Accessible Tourism was 33%. The growth is being fuelled by the cashed up retiring Baby Boomer generation.
Customers who have specific access needs are part of every tourism 'segment'. Their interests are as wide as any other group of people. They may be looking for mountain adventures, concert performances or a honeymoon hotel. In business terms, they are simply 'customers' but they need good access – otherwise, they will choose to go elsewhere. They also travel with family and friends. Through not marketing to travelers with a disability, tourism organizations risk not one customer but potentially many more whether it be family groups, groups of friends, wedding functions or corporate conferences. It is about recognizing people with a disability as an inclusive part of the traveling society.
Incorporating imagery featuring people with disabilities enjoying travel all around the world with their families and friends will give those potential customers with disabilities the inspiration and confidence that they too can enjoy the opportunity to experience new destinations that can accommodate their accessibility needs
Inclusive tourism should be treated the same as any other destination marketing. Accessible facilities are one thing, but the right imagery sends a powerful message that 'we want your business'.
Two years ago Deborah Davis and Bill Forrester established PhotoAbility to service the growing demand for Inclusive Imagery. The library now contains over 3000 images featuring real models with a disability engaged in everyday activities. The photo ability library is a great resource for the tourism industry looking to build advertising campaigns to attract the growing market.
About PhotoAbility
PhotoAbility was established in March 2012 by Deborah Davis, of Fort Lauderdale, FL (a wheelchair user from C-6-7 Spinal Cord injury at 18) and Bill Forrester of Melbourne, Australia. The goal of the library is to provide high quality, unique, non-medically oriented imagery of persons with disabilities for the purchase by the advertising, marketing and media sectors. The Commercial Stock Image Library specializes in positive and "Inclusive" images of people with a disability in leisure, lifestyle and travel settings.
It is the aim of our image gallery, to increase awareness of the value in maintaining and making structural and attitudinal changes, and to encourage the participation of those with differing abilities around the world.