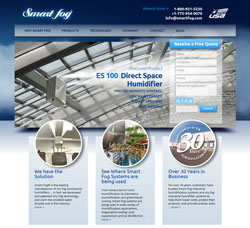 The feature I think is most exciting for the industry is our new Smart Fog Blog
Reno, NV (PRWEB) October 31, 2014
Smart Fog Inc is proud to announce the launch of its new website at http://www.smartfog.com. Smart Fog, a provider of commercial humidifiers and the most trusted leader in non-wetting humidification systems, aims to become the best resource online for HVAC professionals with new features such as a blog and additional product information, like easy-to-understand diagrams explaining the science behind Smart Fog's technology.
"Besides creating a new refined look for our online identity on the Smart Fog website, we have added a wealth of new information about our products," said Ido Goldstein of Smart Fog. "The feature I think is most exciting for the industry is our new blog. We plan to update it regularly with fresh, useful content related to the HVAC industry. This new site helps us to become the best resource online for these professionals."
Smart Fog systems are currently used across a variety of industries, for things like winery barrel room humidification, greenhouse cooling and printing press humidity control. Product lines offered on the new site include the ES100 Direct Space Humidifier, TS100 In-Duct Humidifier, ES100M Mobile Humidifier, and FT100 Fog Tunnel Solutions. All equipment made by Smart Fog is engineered and manufactured in the USA, with the strictest standards of reliability and workmanship.
Smart Fog customers benefit from the most advanced energy and water efficient solutions across all industries. Offering both off-the-shelf solutions and customized systems, Smart Fog has the competence necessary to quickly devise cost-effective solutions.
For more information about the Smart Fog commercial humidifiers please visit the new website at http://www.smartfog.com.
About Smart Fog Inc:
In business since 1980, Smart Fog Inc. is the recognized world leader in the industrial and commercial humidification systems industry. And, all products are manufactured in the U.S. Smart Fog, The Humidification Experts, is a world leader in developing unique industrial and commercial humidifier systems to meet the individual needs of your environment.