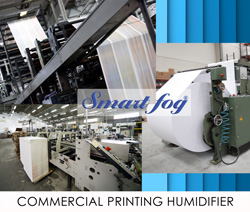 Best commercial humidification for print houses
Reno, NV (PRWEB) October 31, 2014
Smart Fog Inc, a provider of commercial humidifiers and the most trusted leader in non-wetting humidification systems, is pleased to see an increase in printing houses using its commercial humidifier solutions. Maintaining the right humidity levels is essential to keep printing houses up and running and producing high quality products.
During both the winter and summer months, when heat or cooling systems are in use, humidity levels are off causing problems in the amount of moisture in the paper as well as the performance of printing press. Year round Smart Fog systems keep the relative humidity level eliminating static, paper breaks and mis-feeds on machines.
"It's no surprise that printing facilities are more and more looking to Smart Fog to remedy humidity problems," said Ido Goldstein of Smart Fog. "Smart Fog keeps facilities up and running and ensures the production of quality products."
Many printing facilities are using Smart Fog's fully automated ES100 System. This system is designed for simple installation and low maintenance. Using the ES100 System printing facilities can control precise humidity, eliminate dust and static, conserve water and energy, eliminate paper curling and cracking and ensure machines keep working properly.
Smart Fog customers benefit from the most advanced energy and water efficient solutions in the industry. Offering both off-the-shelf solutions and customized systems, Smart Fog has the competence necessary to quickly devise cost-effective solutions.
For more information about the Smart Fog commercial humidifiers please visit http://www.smartfog.com.
About Smart Fog Inc:
In business since 1980, Smart Fog Inc. is the recognized world leader in the industrial and commercial humidification systems industry. And, all products are manufactured in the U.S. Smart Fog, The Humidification Experts, is a world leader in developing unique industrial and commercial humidifier systems to meet the individual needs of your environment.